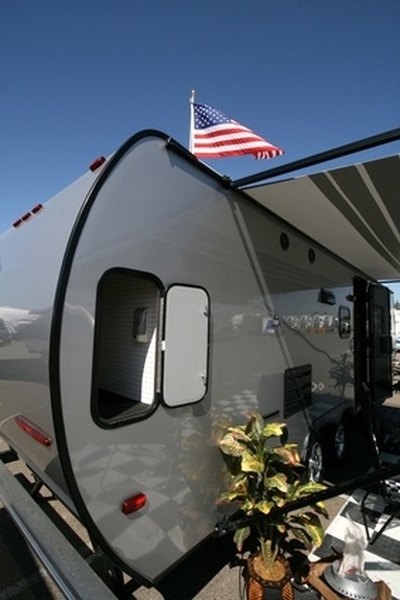 Airstream built the Argosy travel-trailer line from 1974 to 1979. They were similar to the silver-colored, more commonly recognized Airstream models, but they were built of discolored aluminum segments that required painting. Painting an Argosy trailer is similar to painting a car, but be sure to buy paint specifically designed to stick to aluminum.
Items you will need
Work gloves

Goggles

Orbital sander

Sandpaper

Mineral spirits

Rag

Masking tape

Paper

Primer

Paint brush

Wax and grease remover

Paint

Paint sprayer

Clear coat paint or rubbing compound
Step 1
Sand the existing paint using a orbital sander. Make sure the surface is smooth. It's best to sand down to the metal if possible. If not, make sure all pockmarks and rust are sanded down.
Step 2
Clean the vehicle using mineral spirits. This will help the new paint stick to the newly sanded surface.
Step 3
Tape areas that do not need paint. Use masking tape to adhere paper to windows, door handles, lights and other areas that you don't want to paint.
Step 4
Prime the trailer with a self-etching metal primer, such as Interlux Vinyl-lux Primewash Base. Allow the primer to dry completely. Read the primer's instructions, but the time is typically at least an hour.
Step 5
Sand the primer to smooth any surface imperfections. Use a 600-grit wet/dry paper to sand just the surface – do not expose the metal again during this step. Clean off the residue using a wax and grease remover.
Step 6
Spray your paint on the trailer. Make sure you use a paint specifically designed for outdoor aluminum, like Zolatone (see Resources). Apply an even coat, and allow it to dry completely. This takes at least one day, but it could take as many as seven days. Follow the instructions included with your paint to determine drying times.
Step 7
Sand the paint with a fine-grit sandpaper, such as a 1200 grit. Make sure the paint is smooth. Rinse away the residue with water and allow to dry.
Step 8
Apply a clear coat or a rubbing compound to protect the paint and make it shine.