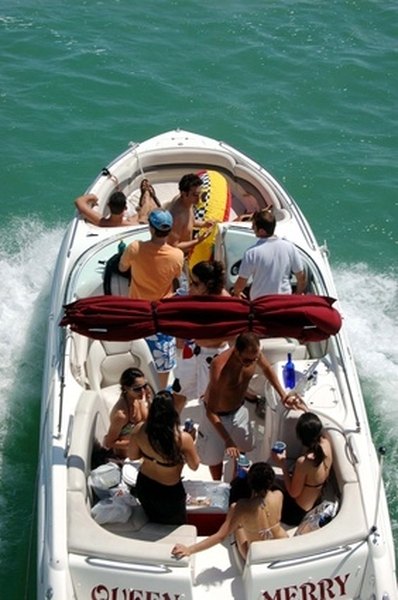 The 4.3-liter Mercruiser MPI, or Multi-Point Electronic Fuel Injection, stern drive is a six-cylinder engine capable of providing up to 220 propshaft horsepower. It is a common engine used in small boats as well as in dual configurations on larger boats. Servicing your Mercury marine engine is necessary to prolong engine life and maintain peak performance.
Preparation
Always warm up the engine before removing the oil. Use a Mercury marine starting tool connected to a garden hose and attached to the water inlet openings on the stern drive. Never start the engine without using the tool, as severe damage to the water impeller will result.
Process
A marine hand pump tool will remove the used oil through the dipstick opening. Some later models of the 4.3 Mercruiser are equipped with an oil drain hose tethered to the boat drain plug at the stern of the boat. The hose is connected to the bottom of the oil pan. You can easily drain the oil by removing the plug and pulling the oil drain hose through the opening to gain access to the valve.
Supplies and Tools
Always use Mercury Marine filters and approved oil. Use the proper weight oil for your climate and application. Consult the service manual for specifications. Tools needed are an oil filter wrench, funnel, engine starting tool and shop towels.