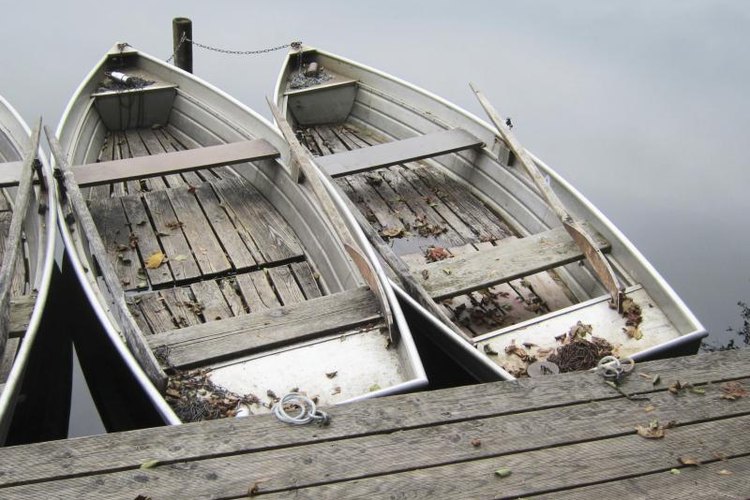 While you can fish, hunt, lounge or take amazing wildlife photos with an unmodified jon boat, it is often easy to tweak your craft to suit your favorite activities. Designed with versatility in mind, few vessels lend themselves to modification as well as aluminum jon boats do. While you must always keep safety in mind, your imagination, budget and local regulations are the only things limiting the possibilities.
Angling Adjustments
By adding a wooden or aluminum frame and placing treated plywood panels across the top, turn your jon boat into a miniature bass boat. Cover the plywood with outdoor carpeting and add a few pedestal seats above the built-in benches to complete the transformation. Add a fish finder to the side of the boat so you can locate the lunkers, and add a trolling motor to the bow of the boat so you can sneak up on them. If you like to troll or fish with multiple rods simultaneously, construct a few PVC rod holders and attach them to the perimeter of the vessel.
Surrounded in Stealth
Even unmodified jon boats are very helpful for wildlife photographers trying to approach wary shoreline critters, but adding a blind to the boat makes the vessel even more effective. Construct a frame from half-inch PVC pipe; you can design it to bolt onto the sides of the boat or make it a free-standing unit – just make sure that the frame does not create a safety hazard. Attach plastic-coated wire mesh panels to each side of the frame, while leaving small spaces through which you can take photos. Intertwine habitat-specific vegetation through the mesh to complete the effect.
Waterfowl Watercraft
Duck hunters need boats that are difficult to see from all directions – including from the air. Accordingly, a good camouflage paint job is an effective first step for converting your jon boat into a duck-filled dinghy. You'll need to lightly sand a boat constructed from bare, unfinished aluminum and then apply a self-etching primer before painting it, but if your boat already has some type of finish, simply sand it to impart a rough texture and then apply the paint. Coat most of the boat in a light gray or khaki color, and then add darker blotches or stripes. Do not worry about achieving a glossy finish that looks as though it just rolled off the production line; surface irregularities will help reduce glare.
Lounging in Luxury
Cup holders and coolers are great jon boat additions for captains who are more interested in relaxation than recreation. Use screws or bolts to mount cup holders to the jon boat benches. Construct a base into which your cooler will sit, instead of placing it on the floor of the boat, where it will slip and slide all over the place. Make the base from treated two-by-fours and bolt them into place.
Photo Credits
1stGallery/iStock/Getty Images