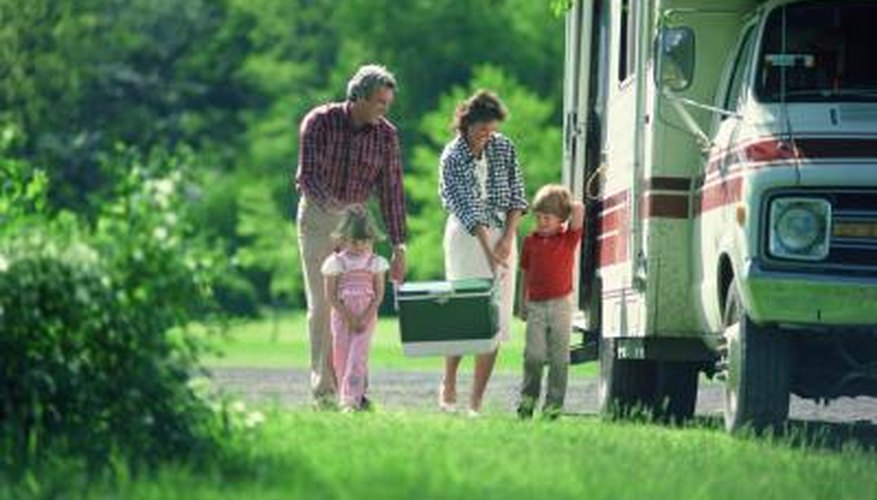 Traveling to the great outdoors has been made easier via the use of campers and travel trailers. Campers allow outdoor enthusiasts to bring along the comforts of home with them to an outdoor destination. Typically, most campers and trailers have retractable awnings that allow for shade and cover from the elements on the porch area. Over time, these awnings may become damaged and need replacement. In order to replace the awning you need to accurately measure it in order to purchase the correct size replacement.
Step 1
Extend the camper awning completely to its maximum length. Note that all awnings will vary slightly on operation. Generally, you extend the awning supports, the pull the awning by the center handle outward thus unrolling to its maximum length. Lock the awning into position.
Step 2
Measure the width of the awning fabric using a tape measure. Write down your measurements to refer to later.
Step 3
Measure from the roller to the awning rail using a tape measure. Write down the measurements to refer to later.
Step 4
Take your measurements to a local camper or RV dealer, or an RV parts warehouse. Select the awning that corresponds to your measurements. For example, smaller campers such as pop-up style campers may require an awning that is 8 to 10 feet long, but will only extend about 6 feet out. Larger campers and travel trailers may require an awning between 15 and 25 feet long and can extend out up to 8 feet or more.