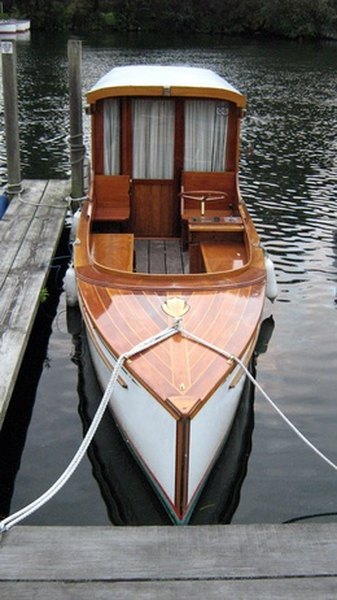 Whether you're restoring a boat you've just purchased or putting the finishing touches on a newly handcrafted vessel, the final and most important stage is waterproofing the hull. This process can take anywhere from five to 10 days, but in the end you can be confident that your boat is ready for the water.
Items you will need
Veneered marine plywood

Paintbrush

Waterproofing epoxy

Hardener

Clean rags

Marine based paint

Glass bowl

Sandpaper
Step 1
Wipe down both sides of your veneered marine plywood with a clean rag.
Step 2
Shake the epoxy can to properly mix the glue and remove the lid. Mix the epoxy and the hardener in a glass bowl.
Step 3
Using the paintbrush, thoroughly fill the holes and cover the joints with the epoxy and allow it to dry for three hours. Apply a second coat. Allow it to dry for three hours more and then apply a third coat. After the the third and final coat, allow the boat to sit untouched for five to six days.
Step 4
Sand the bottom and all the sides of the boat.
Step 5
Using the second paintbrush, paint your boat. Apply two coats of paint and allow six to eight hours for the paint to dry. Apply a third and fourth coat of paint.
References
"How to Build a Wooden Boat"; David C. MacIntosh; 1987
Writer Bio
Matt Vietri has been writing professionally since 2005. He has had his work published in the "Bucks County Courier Times," "Metronome Magazine," "Major League Baseball," the "Seaford Star." After attending Temple University film school, Vietri studied English at the University of Delaware.