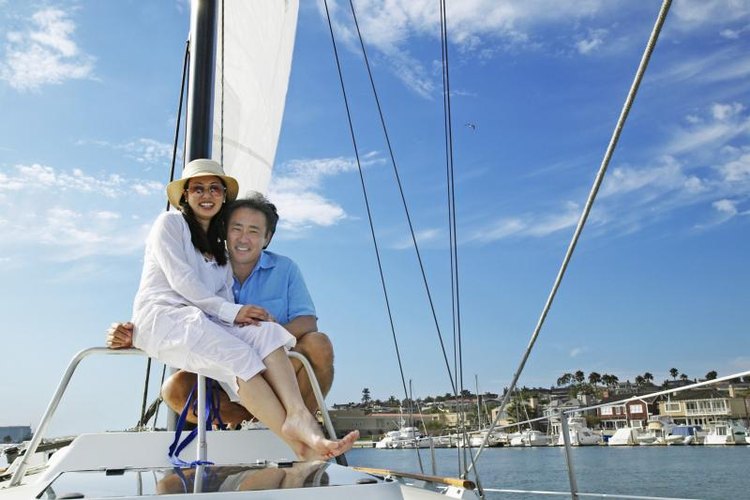 A novice sailor should put in some time on deck and under canvas before moving aboard. Less is always more on a sailboat -- except when it comes to experience. So, trading possessions and landlubber comforts for sunsets under sail and life dockside is an exercise in scaling down and gearing up for daily adventure in all its salt-encrusted, wind-driven and occasionally becalmed, glory.
Cruiser, Ketch, Catamaran
Day-sailing, weekend trips and vacation runs are as different from living aboard as the horse latitudes are from the high latitudes. Select a liveaboard boat that's a live-cruise hybrid to give yourself the best of both worlds. A monohull with a shallow draft is easier to dock and ideal for coastal sailing in shallower waters. It won't hold its own in rough seas offshore as well as a sturdier deeper hull. A monohull such as a sloop, yawl or ketch loses cabin space to narrow ends and slanted hulls, and you will be more comfortable living in a sailboat with headroom clearance. You can get more room in a multihull -- a catamaran or trimaran has twice the interior compartment space in its double or triple pontoons. Wider multihulls may require a double marina slip, though, which adds significantly to their ongoing expense.
Basic Amenities
When your boat is your castle, you need enough space for the functions of your daily life, especially when you work from home. You need a bunk -- a stateroom fore or aft, separate from the main cabin is best -- a galley with cabinets, sink and counter for whipping up gourmet repasts, a dining-working-socializing table and seating, a chart table, storage and a head. A practical head has a separate shower so the bathroom isn't wet, slippery and slimy all the time. A two- or four-burner gas stove with a simple oven, a real ship's refrigerator, one hanging closet per adult liveaboard, enough light and airflow through hatches, portholes and skylights, and a manual pump or automatic water supply are a start.
Beyond the Vagabond Stage
You'll last longer as a liveaboard if you add hot water capabilities, climate control for tropical and winter anchorages, wifi and satellite technology, A/C hook-ups and a generator, an inverter for using battery power and solar panels to cut down on energy costs. Since sailboats require regular and emergency maintenance -- usually expensive -- learning to do most simple and moderately challenging repairs and upkeep yourself makes sense. So does securing a permanent or semi-permanent dock slip. You may be happy chancing a slip -- and anchoring out when there isn't one -- if you're day-tripping around the West Indies, but you won't want to hold down a job in Boston or Seattle and commute halfway down the coast because the local marinas are full.
Instant Minimalism -- With Sunsets
A liveaboard sailboat for one or two can be as small as a 26-foot sloop up to anything you can afford and handle. But headroom and simple comfort make the argument for a sailboat of more than 30 feet and designed for the type of cruising you plan to do. Kids and pets take up a little more room, and you do need safety nets, tie-lines, regulation flotation vests, pet food and litter storage, toys and education supplies when the whole family lives aboard. Your stuff stays on shore -- in a storage unit or gone for good. You transplanted your landlubber life on board to live on the water. Take some time to feed the seagulls -- and clean the deck. Watch the sun rise, or set, and you won't miss "reality" TV. Strap down your very few possessions and weigh anchor on the weekend. Under sail beats mowing the lawn, hands down, any day.
Photo Credits
Digital Vision./Photodisc/Getty Images