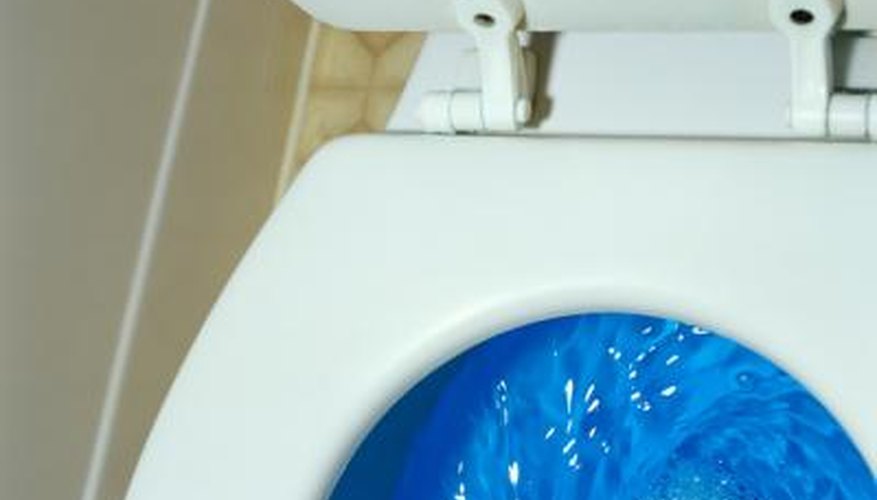 Recreational vehicles or travel trailers need frequent cleaning because campers constantly track in mud and debris from campsites. One area not to neglect is the RV's bathroom. Most RV toilets are made from plastic, which has a porous surface and is sometimes difficult to clean. Follow the right procedure to keep your RV bathroom sparkling and your vacation enjoyable.
Items you will need
Toilet brush

Baking soda

Vinegar

Fiberglass wax
Step 1
Keep the bowl half full of water when using your RV toilet. This is one way to keep "streaking" to a minimum, but doing this is never enough. Keep a brush and toilet cleaner next to the bowl and brush it every few days.
Step 2
Clean the RV toilet bowl with natural ingredients. The bleach and acids found in most household cleaning products will potentially dry out and damage the seals in your waste water system, so avoid using these. Consider products that use citric acid, a mild organic acid, as their active ingredient. Such products will not harm your system.
Step 3
Clean the toilet with common household materials. For instance, try adding one-third cup of vinegar into the bowl and then mix in a little baking soda. Put a vinegar solution in a plastic bottle and spray the outer edge of the toilet. Add more baking soda to a toilet brush and complete the cleaning job.
Step 4
Coat the toilet's inside surface with fiberglass RV wax. This makes the plastic surface smoother and stain-resistant. A treatment with regular RV wax usually lasts about a month.
References
Writer Bio
This article was written by the CareerTrend team, copy edited and fact checked through a multi-point auditing system, in efforts to ensure our readers only receive the best information. To submit your questions or ideas, or to simply learn more about CareerTrend, contact us [here](http://careertrend.com/about-us).