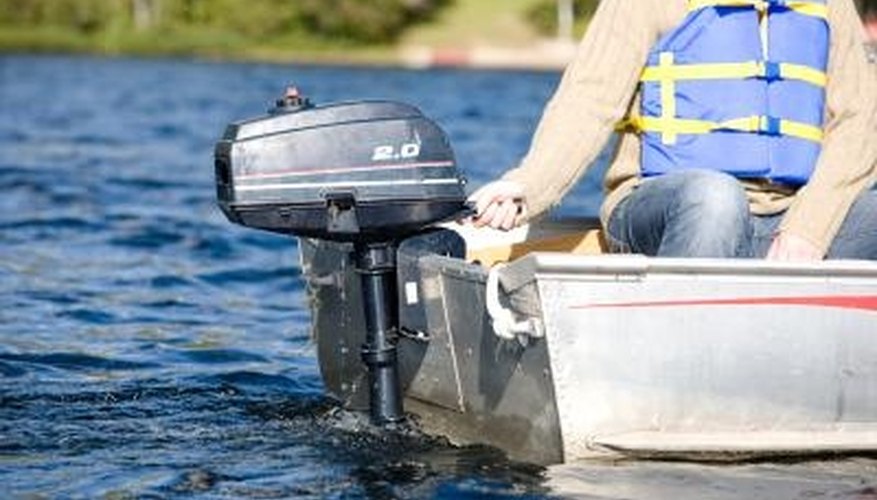 Identifying your Mercury outboard motor can be challenging, particularly if your motor was built prior to March of 2001. If your motor was built after March 2001, the identification is significantly easier since there's only been one change in the method of developing model codes for new products, and that change--adding a consumer-readable date to the information on the motor--makes it less difficult to identify the latest versions of Mercury outboard engines instead of just depending on the logo on the engine cover.
Step 1
Read the plate on the transom bracket of the motor plate with the words, "Mercury Marine," prominently featured at the top. Also on this plate you'll see a model code if the motor was built before September 2006. Before that date, the second-to-last letter in the code was used to identify the model year, and the code was automatically updated every 12 months. A plate stamped with the model code "1-225V23DD" is a Mercury 225XL (the "225" in the code) Verado (the "V" in the code), and the "D" in the second-to-last position is "2005," the fourth year following the March 2001 return to production following Mercury's October 2000 Chapter 11-related closure. (See Reference 1)
Step 2
Look to see if there's a date stamped above the serial number. If so, then the second-to-last position in the model code now represents the production era. There is no longer a model year on Mercury engines, and the model code will no longer be updated every 12 months. Mercury will update the model code only when significant changes occur.
Step 3
Buy a shop manual for your motor based on the model number if your motor's model numbers don't resemble the model numbers in the example or don't have a date stamp. You can purchase the manual from a parts dealer but not from a Mercury dealer. Mercury Marine no longer provides shop manuals to consumers nor information on motors produced, before March 2001, when OMC/Mercury was acquired by Bombardier Corporation. They do not provide shop manuals online.
References
Writer Bio
Will Charpentier is a writer who specializes in boating and maritime subjects. A retired ship captain, Charpentier holds a doctorate in applied ocean science and engineering. He is also a certified marine technician and the author of a popular text on writing local history.