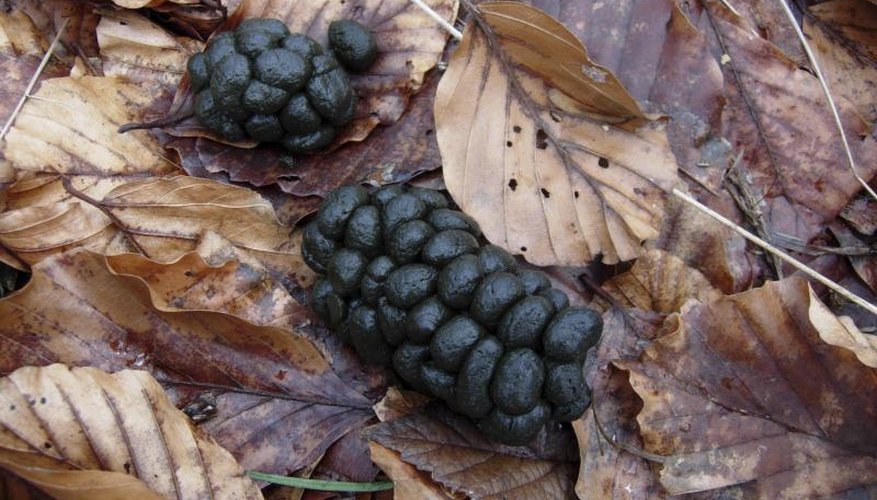 Knowing how to recognize a deer's droppings can tell you how close you may be to the animal and how many are in the area, and also help identify favorite bedding and eating spots. A deer commonly drops bullet-shape pellets that have an indentation on one end and a point on the other, making them easy to tell apart from most other wild beast droppings.
Telling the Difference
Other animals aside from deer drop clumps of pellets. Rabbit droppings are smaller, rounder and deposited in littler piles. Elk and moose poop is larger -- about the size of large grapes. Goat poop is easily mistaken for deer pellets, but tend to be about half as wide.
A Wealth of Information
Look at deer poop to determine how recently the deer was there. If it is steaming or warm, or if it has a greenish tint, it means the deer probably left the area as you approached. Poop that is still shiny with moisture is usually within a few hours old. As droppings age, they become darker and dried, and settle into the substrate. Deer drop about 13 piles of pellets per day, so finding several piles of scat doesn't necessarily mean more than one animal is in the area.
References
Writer Bio
Indulging her passion for wide open spaces and outdoor fitness through the written word on a full-time basis since 2010, author Jodi Thornton-O'Connell takes the mystery out of outdoor skills and guides readers to discover fun ways to physically connect to natural surroundings.