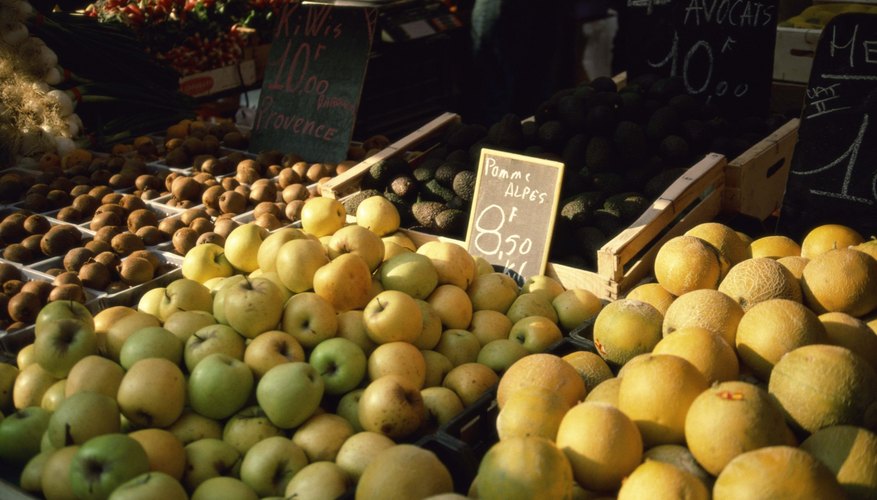 Farm stands can be the main retail outlet for a single farm, a collaborative effort by multiple farms or a supplementary venture operating out of a barn, farmer's market or roadside. A farm stand is not just a functional structure, but an expression of a farm's personality and values. When building a farm stand, address the practical side of the outdoor and often temporary nature of the stand while incorporating aesthetic and marketing elements into the final construction.
Structural Composition
As the University of California at Santa Cruz Center for Agroecology and Sustainable Food Systems notes, a farm stand is best tied in design and proximity to the overall farmscape to boost appeal and increase sales. Locate it close to the production fields to reinforce to the consumer the connection between the food and the land. Present the farm stand itself and neighboring structures attractively by incorporating landscaping, gardens, murals and antique farm implements. Place parking spaces inconspicuously away from the main stand, rather than allowing them to dominate visually.
Putting Together a Farm Stand
According to the University of Wisconsin Extension, first-time farm stand operators tend to overdo when building and outfitting their stands. It suggests erring on the side of a simple weatherproof pavilion that is readily accessible to both you and your customers. With displays, use shelves that are no deeper than 2 feet from front to back, and make aisles at least 5 feet wide. Use empty wooden crates to support your merchandise and present a fuller appearance. For outdoor lighting, opt for floodlights; use low-glare fluorescent bulbs indoors. Deploy spotlights inside and out to illuminate featured displays.
Multipurpose, Collapsible and Portable Features
Building a farm stand isn't always a straightforward endeavor, given space limitations, venue rules and city and zoning regulations. You may find you have to innovate to stay compliant. For an urban farmer's market setting, where space is at a premium, make a farm stand do double duty as a structural frame for a protective canopy or have it serve as a hand truck to transport merchandise. Alternately, create a bicycle-powered foldable farm cart to transport goods on the one hand and display produce once stabilized with bracing bars.
Honor System Farm Stands
Some farm stands operate by the honor system, in which customers pick the produce they want and pay via a cash box at an unstaffed stand. For this type of stand, bolt the cash box securely to the structure and provide paper, pencils, a calculator and a phone number in case someone has a question about the payment system. Place a chalkboard prominently at the front of your farm stand describing the self-service system, where to find different items and which payment forms are accepted.
References
Writer Bio
Timothea Xi has been writing business and finance articles since 2013. She has worked as an alternative investment adviser in Miami, specializing in managed futures. Xi has also worked as a stockbroker in New York City.