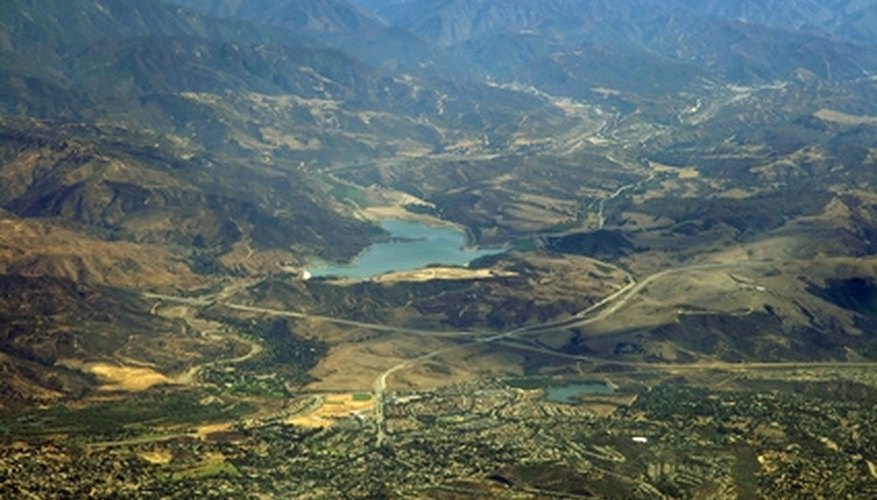 The "urban" Angeles forest in Los Angeles County covers 694,187 acres of the San Gabriel Mountain range with designated areas open to hunting throughout the year. A 2000 U.S. Forest Service survey showed the Angeles National Forest attracts about 100,000 hunters each year. Hunters may hunt blacktail, whitetail, mule, sika, sambar, Fallow and axis deer during the general deer season.
Items you will need
High-caliber deer rifle or bow and arrow

Hunting license

Deer tags

Scent masking laundry detergent

Unscented soap

Map of the Angeles National Forest

Hiking boots
Buy a hunting license and deer tags. You will need both to hunt deer in the Angeles. You can buy a license directly from the California Fish and Game Department or from qualified agents of the game department such as sporting goods stores. An adult resident license is $41.50, and an adult nonresident is $144.65. Apply for your first deer tag before July 1 for the best chance of getting a deer tag. There are three categories: Premium, Restricted and Unrestricted. Each tag carries a fee and will allow you different hunting privileges. All tag categories may be used in the Angeles National Forest.
Apply for second deer tag. You may apply for a second deer tag after you have received your first, though you may acquire both applications at the same time.
Use a high-powered gun during the general deer season such as a .30-06 or a .308-caliber rifle loaded with bullets designed for deep penetration. Though thick with brush and vegetation, you will want the option to take longer shots when you hunt in the Angeles. The mountainous landscape can make it difficult to get close to deer. If you hunt with a bow, use arrows designed for deep penetration.
Carry a map that details hunting areas zoned for hunting, and hunt only in areas zoned for hunting. County ordinances and subsection 4902(b) of the Fish and Game Code prohibit the use of firearms in some areas of Los Angeles County. You might be limited to bow hunting in these areas. Note that under California state law, you may not hunt within 150 yards of a campsite or residence. Call (626) 574- 5200 for information on hunting closures because of fire or weather.
Get yourself into good physical condition. Steep terrain and extreme changes in temperature characterize the Angeles forest, and traversing high altitude areas will be arduous even if you are in good shape. Hike often before you hunt or, even better, hike the Angeles to familiarize yourself with the area and what obstacles it presents before you hunt in the Angeles.
Wear good hiking boots with thick socks to prevent blisters, and dress in layers. Though decidedly warm year round, southern California can get cold when the sun goes down. Dressing in layers will allow you to take things off and put things on as the weather changes.
Shower before you hunt, and wash your clothes with a scent-blocking detergent. Masking your scent will increase your chances of avoiding detection by deer. Use scentless soap when you bath.
Shoot animals in the area around the middle of their shoulder. This area contains the deer's vital organs, and a shot placed here will effectively kill the animal. Retrieve to the best of your ability any animals that you wound.
References
Writer Bio
Aaron Samsel is the founding editor of Guns.com. He has been writing professionally since 2008.