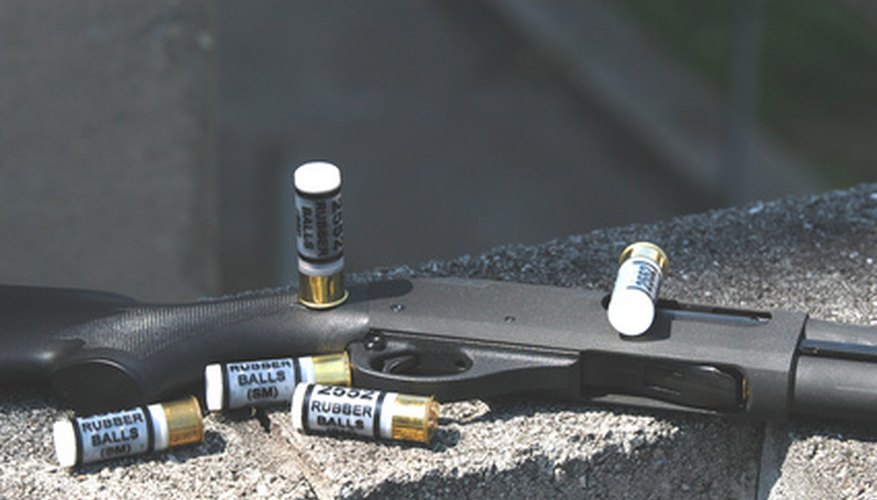 Truglo Sights are made to enhance accuracy with rifles and shotguns. These sights are mounted onto the top of the shotgun barrel, using the stock and barrel rib. Truglo includes high-density, dual-sided duct tape in the installation kit to account for shotguns that are not equipped with a barrel rib. Truglo Sights have windage and elevation adjustments, allowing the sights to zero in on both the horizontal and vertical planes.
Open the chamber of the shotgun and inspect for the presence of ammunition. Make sure the gun is empty and no rounds are in the chamber or magazine. If possible, leave the action open as a safety precaution.

Slide the front sight onto the stock rib. The rib is a square notch running down the center of the stock. The Truglo Sight is designed to slide into the rib. Tighten the attachment screws on the side of the sight to attach to the rib. The small U-shaped indentation on the high end of the sight should face toward the back of the shotgun.

Slide the barrel sight onto the barrel rib, if the shotgun is so equipped. Keep the red sight-light facing the stock. If the shotgun has no barrel rib, use the high-density duct tape included with the sight to attach it to the barrel.

Load the shotgun at a shooting range and set up a target approximately 25 yards away. Use a slug. Take a shot and see if it went to the left or right, or if it was high or low of your desired target. Turn the windage adjustment to the left or right to zero in on the target on the horizontal plane, and the elevation screw to adjust the vertical plane. Make micro adjustments until the sight is zeroed in to your desired accuracy.
Writer Bio
A former Alaskan of 20 years, Eric Cedric now resides in California. He's published in "Outside" and "Backpacker" and has written a book on life in small-town Alaska, "North by Southeast." Cedric was a professional mountain guide and backcountry expedition leader for 18 years. He worked in Russia, Iceland, Greece, Turkey and Belize. Cedric attended Syracuse University and is a private pilot.