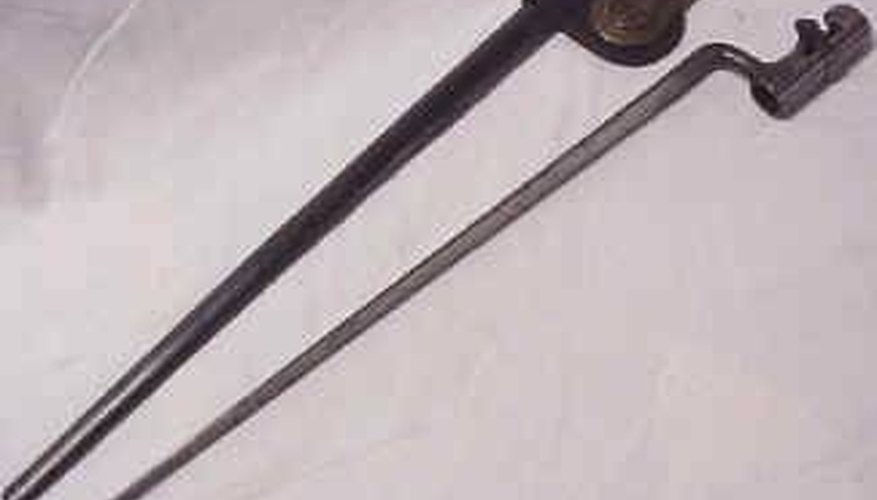 Despite the introduction of large-scale military weaponry, old battlefield tactics such as the line charge were still taught on both sides at the beginning of the U.S. Civil War. Thinking that the charge would still be used effectively in battle, bayonets were installed on many of the rifles used during the war. Identifying them is helpful to Civil War buffs and historians.
Recognize how bayonets were used. Bayonets were normally placed at the end of guns and used as ancillary weapons for hand-to-hand combat. They also could be used by hunters to defend themselves against a charging animal if there was not time to reload. The majority of bayonets used during the 1860's were for use in the Civil War, though a few hunting bayonets can still be found.

Identify the shape and size of Civil War-era bayonets. Many Civil War bayonets (though not all) were socket-style, meaning they had a hole that slipped over the muzzle of the gun and locked into place. The socket bayonet was the most widely used during the war. Modern and some pre-war bayonets clipped or snapped the knife, sword or dagger into place at the end of the gun. Many bayonets have an attached leather frog used to help hold the bayonet in place on the gun. Many of the leather parts have not survived through the decades; if you see an intact leather piece with a bayonet, it may very well be a reproduction even if the metal is original. Enfield rifles could be fixed with a variation on the bayonet, a sword with a loop on the handle that slid into place on the rifle.

Be aware of which guns used bayonets in the war. The most common small-arms weaponry used in the Civil War was the Springfield rifle, and many of those were equipped with bayonets. The navy also used bayonets on their weapons, including a "Dahlgren" bayonet that was shorter and more like a knife. 1855 socket bayonets were actually not too much different from ones later used in the 1870's. 1885 bayonets had a white, gleaming finish, while the 1873 socket style had more of a bluish finish. Another minor bayonet was the Colt 1855 naval sword bayonet, imported to the U.S. by the Brazilian government.

Investigate how bayonets were used during the war. Less than one percent of all casualties resulted from bayonet wounds, and many soldiers realized their uselessness during the early campaigns. Bayonets were featured during the Battle of Gettysburg, when they were ordered to be used during the legendary "Pickett's Charge." During other times, soldiers either discarded them to lighten their load or used them for other reasons, such as tent stakes or candle holders.

Know the price for buying an original Civil War bayonet. Collectors sell Civil War-era merchandise through online sites and printed publications. Legitimate bayonets can be purchased for between $160 and $350, depending on the condition. There are replicas and forgeries out there, so be aware of that possibility before you make a purchase. The ways to identify a forgery bayonet from the real thing are subtle, while things such as obvious aging, newer scabbards and misplaced serial numbers are dead giveaways. The best thing to do is consult online guides (see Resources) or to consult with a trusted dealer before you make a purchase. Never buy an expensive bayonet online from someone you do not know unless you have checked it out first. It always helps to get a second opinion.

Items you will need

Some knowledge of guns and/or warfare

Bayonets or pictures of them
References
Writer Bio
Jason Tyson has spent the last 13 years working as a writer and editor in various forms of the publishing world, holding positions at major newspapers, magazines and journals. Tyson worked for six years at two different North Carolina newspapers, the Winston-Salem Journal and Wilmington Star-News. He also spent three years in New York City, with Martha Stewart Living Magazine and Law Journal Press.