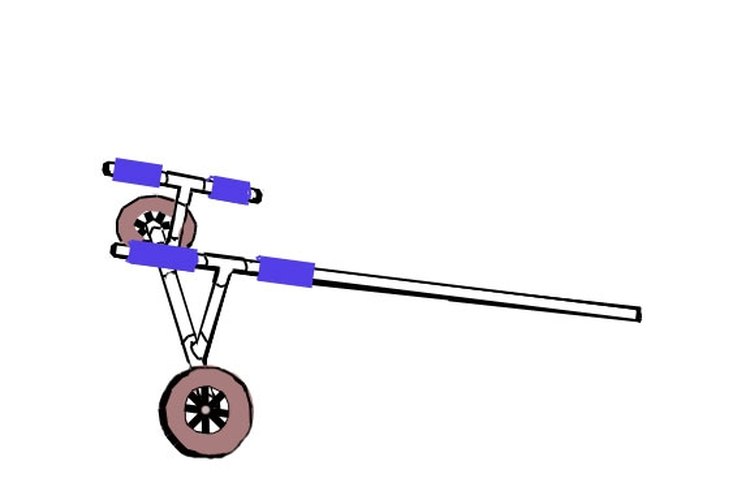 A kayak cart is a handy thing for rolling your kayak from the top of your car to the water. Commercial carts easily run into hundreds of dollars. For the do-it-yourselfer, here's a simple design you can put together for about $30.
Axle housing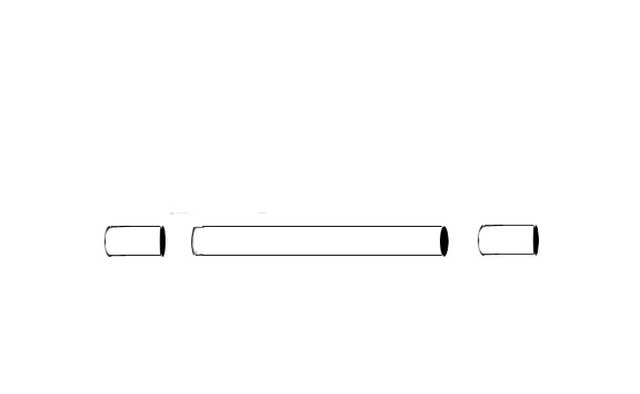 Cut a 24 inch long piece of one inch schedule 40 PVC pipe into 3 pieces: one 18-inch piece and two 3-inch pieces.
Support assembly
Glue two 1-inch schedule 40 PVC T-joints, one on either end of the 18-inch piece. Then add the 3-inch pieces to either end as shown and glue 1-inch schedule 40 end caps over both ends.
Securing the uprights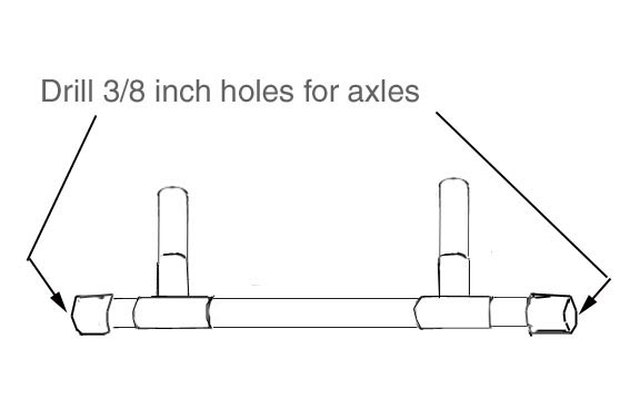 Cut two 9-inch uprights from your 1-inch PVC and glue into 1-inch T-joints as shown. Drill 3/8 inch holes through end caps for the axle.
Upper boat support joints
Glue two 1-inch T-joints into the top of the uprights. These segments should be perpendicular to the axle.
Attach axle and wheels.
Insert a 3/8 inch diameter rod through the holes in the end caps. Bolt the rod in place and then slide the wheels onto the axle. Secure in place with two bolts on each end torqued against each other. This secures the bolts without impairing the rotation of the wheels around the axle. Cut off any excess axle rod to prevent injuries to your feet while working with the cart.
Installing the boat supports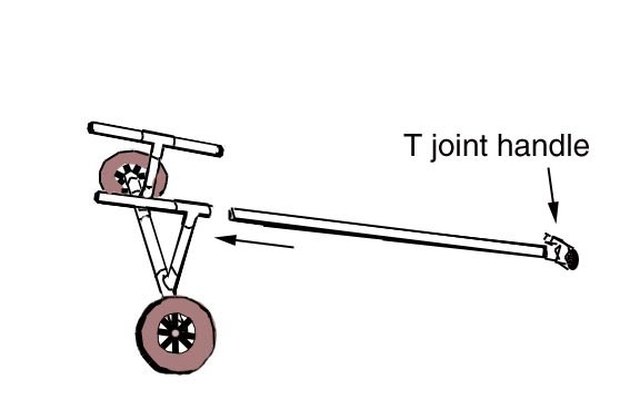 Cut three 8-inch pieces of 1-inch PVC, and glue into the ends of three upper T-joints.
Insert the rest of the PVC into the remaining connector and glue a "T" to the end of the handle. This handy, removable prop will hold up the cart while you set the boat on top of the cart.
Hull pads
Cut a foam fun noodle into 7-inch-long segments and slit halfway through the length of each segment. Open the noodles and wrap them over the upper supports as shown. Secure with adhesive or, if you can't find an effective adhesive, secure them with zip ties.