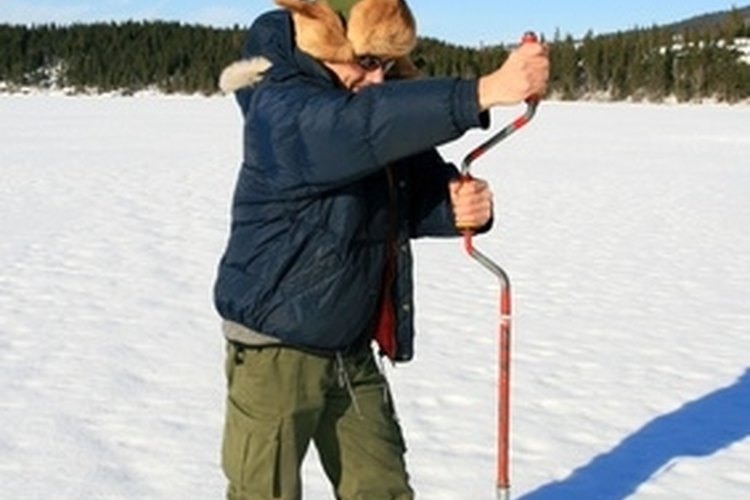 Serious ice fishermen will want to buy or make an ice fishing shelter for protection from the wind and cold. There are many types of shelters that can be made easily by hand for $100 or less.
DIY Wide Shelter
Inquiry.net has plans available for a dome-topped ice fishing shelter made from scavenged material and plywood. Additional supplies needed for this shanty include a hammer, nails, staple gun, plywood planks for the floor, sticks and boughs for the frame and a tarp or oilcloth. In this shelter, the plywood planks are nailed together to form a floor and the scavenged boughs are bent--if young--or otherwise joined together with wire or rope to form a U shape. To finish the shelter, cover the outside of the frame with oilcloth or tarp and fasten it with a staple gun.
Other Kinds of Shelters
Traditionally the ice fishing community uses three styles of ice fishing shelter. The most premium of these is the ice fishing house. Ice fishing houses usually require a trailer to be moved at the end of the season. High-end ice houses often contain kitchens and sleeping accommodations.
Ice fishing shelters, such as the one discussed above, are comfortable and can fit one to four people but they still break down easily for transport. Frequently ice shelters have skis on the bottom for easy movement across the ice.
Ice fishing shanties are the simplest type of ice fishing shelter. Like ice fishing shelters, shanties are meant to be portable and relatively lightweight. Shanties are similar to shelters in style and size but are often simpler to execute.
How to Find your Shelter Plans
There are many resources online for researching ice fishing shelters, but the largest resource is your ice fishing community. Most fishermen are generous people, and they'll often give you the plans they used or let you know where they bought the plans.
If you prefer to build with a plan, you can buy several kinds of ice fishing shelter plans online for $5. All it takes is a little research to determine which plans are the best for you.
You can also browse online plans by following the forums at ice fishing or shelter websites. Sites like iceshanty.com or shantypods.com have thriving online forums with lengthy threads comparing different types of homemade or purchased shelters.
Photo Credits
ice fishing image by Inger Anne Hulbækdal from Fotolia.com