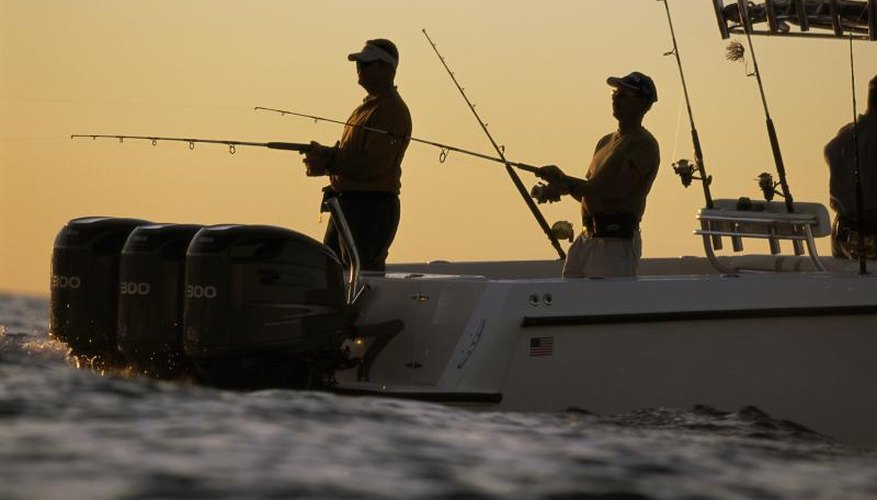 Unless you have a boat cover or store your boat in a garage, expect to spend a Saturday cleaning it every few weeks. Periodically anchor your boat in shallow water to remove any algae growth from the hulls of freshwater boats. If you don't harbor your boat at a marina, the best time to clean it is after trailering it and before storing it for its next use. Instead of the often toxic commercial cleaners for boats, you can make them yourself with environmentally safe cleaning solutions using supplies you more than likely have at home.
Swab the Decks
Combine a mixture of 1 part white vinegar with 8 parts warm water in a spray bottle or a bucket, depending upon the type of cleaning you're doing. If you're washing the decks, a stiff bristle brush attached to a broom handle can remove bird poo, dead stuck insects or bits of dirt and algae that find their way to the boat deck. If the deck is inlaid with wood such as teak, test the vinegar solution in an inconspicuous place to ensure it doesn't change the color of the wood.
Vinyl Seat Cushions
Combine one-quarter cup of white vinegar and one-quarter teaspoon of a liquid vegetable-based dish-washing soap in a spray bottle, and then add water to fill it up. Lightly shake the solution to mix it, but avoid making a foam. Spray the vinyl seat cushions with the solution, scrub with a soft microfiber cloth, rinse clean and let air-dry. Don't let vinyl cushions sit on wet areas of the boat, as this causes mold and mildew to form.
Fiberglass Cleaner
If your boat has a fiberglass hull, deck and cabin; mix one-half cup of white vinegar, one-half cup of baking soda into a gallon of warm water that contains 1 cup of ammonia. When the baking soda and vinegar come together, they create a foaming action. Use the solution when the baking soda is thoroughly dissolved, as it is abrasive to fiberglass. Use this as a universal cleaning agent for the outside of the boat.
Cabin Cleaning
To clean inside the cabin, create a mixture of 3 tablespoons of vegetable-based liquid soap, 2 cups of water and 20 to 30 drops of tea tree oil. Add the mixture to a spray bottle and wipe down bulkheads, chart tables and the deck. For mild antiseptic cleaning around the head, use 3 percent hydrogen peroxide. To clean inside the head's bowl, add a cup of vinegar to the bowl, and then about 2 tablespoons of baking soda. After the solution foams for about 10 to 15 minutes, clean inside the bowl with a toilet brush. You can also use one-quarter cup of borax sprinkled into a wet head and scour it with the brush.
Carpet Stains and Metal Cleaning
Clean stained cabin carpeting with a direct application of club soda and scrub until the stain is gone. You can also mix one-quarter cup of vinegar with one-quarter cup of water and apply directly to the stain, rubbing with a soft bristled brush. Rinse with clean water and let the carpet dry. To clean aluminum, sprinkle cream of tartar onto a clean cloth, add water and polish away. Clean chrome with a dab of apple cider vinegar on a soft cloth. For brass, create a 1-1 ratio of vinegar and Worcestershire sauce mixed with a sprinkling of salt. For copper fittings or elements, add salt to a cut lemon and rub shiny clean.
References
Writer Bio
As a native Californian, artist, journalist and published author, Laurie Brenner began writing professionally in 1975. She has written for newspapers, magazines, online publications and sites. Brenner graduated from San Diego's Coleman College.