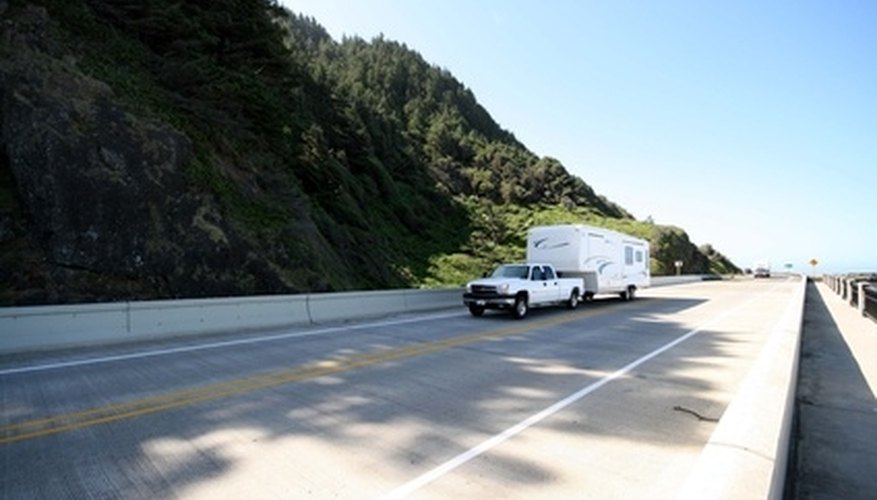 Fifth wheel trailers anchor directly to the bed of a truck. Most fifth wheel trailers are larger than other camper trailers and can provide similar accommodations to an RV. Towing a fifth wheel trailer allows you to travel with your personal vehicle, but in some circumstances you can also tow additional equipment such as a motorcycle. Towing a motorcycle behind a fifth wheel trailer depends on the capabilities of your equipment and state laws.
Items you will need
Towing package attachment on fifth wheel trailer

Motorcycle towing trailer

Ratchet tie down straps

Towing vehicle manual

Fifth wheel manual

Motorcycle trailer manual

Motorcycle manual
Step 1
Check the vehicle specifications section of your vehicle owner's manual to find the maximum towing capacity. Add up the weight of the fifth wheel trailer, motorcycle towing trailer and motorcycle to ensure your vehicle is capable of handling the weight. Check the weight rating of the tow hitch connected to the fifth wheel to ensure it is capable of towing the motorcycle. You can find the weight of each item in the owner's manual.
Step 2
Read the state laws associated with towing multiple vehicles for any states in which you will be driving. States have varying laws regarding double towing. Some states do not allow it, while others have length restrictions. Additional licensing may be required to legally double tow.
Step 3
Inspect the towing hitch on the fifth wheel for any damage, including cracks. Roll the motorcycle trailer up to the hitch and connect it securely. Attach the electrical connections to power the motorcycle trailer's break lights and turn signals.
Step 4
Roll the motorcycle up the loading ramp of the trailer. Center the motorcycle on the trailer as much as possible. Use the ratchet tie downs to secure the motorcycle on the trailer. Check the ratchet and tow hitch connections before departing.