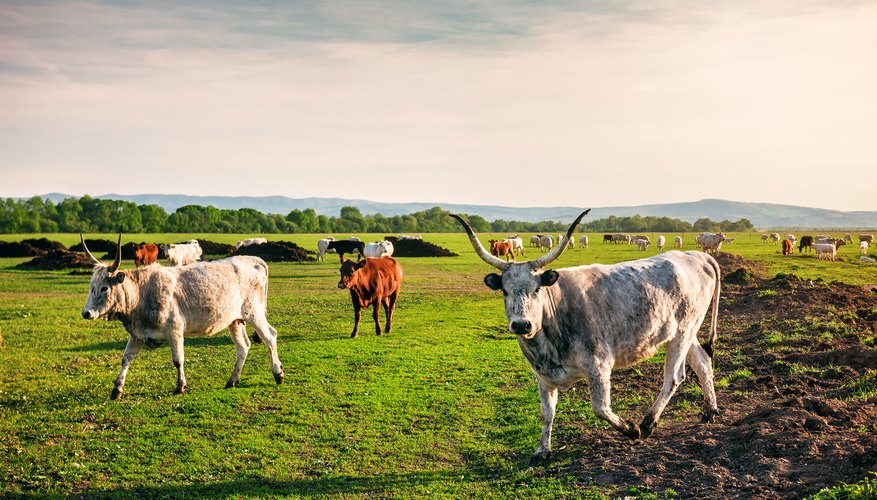 Before the United States was an industrial (and later) technological power, agricultural production was king. The federal government, and private sources as well, still recognize the importance of maintaining a strong food production cycle at home. For this reason, farmers interested in starting a cattle herd may be able to qualify for a variety of grants, ranging from the private sources of Willie Nelson and John Mellencamp's Farm Aid to offerings from the United States Department of Agriculture (USDA) and the Department of Conservation.
Farm Aid
In 1985, musicians Willie Nelson and John Mellencamp put on a concert to bring attention to the increased rate of insolvent family farms, and to raise money to help them stave off foreclosure. Still going strong, Farm Aid's annual concerts have been augmented by a grant program that helps farm families stay on their land, create new crops and herds, and survive in an agricultural world that has become increasingly dominated by corporate farms.
Conservation
If you happen to live in an area that has been designated environmentally sensitive by the USDA, you could find yourself in line to receive a grant to help with the start-up expenses of cattle farming. Money is offered to farmers who take steps to reduce soil erosion, improve water quality and wildlife habitat, and generally maintain their land in a manner benefiting the public good. The Mississippi River Basin and Great Lakes Area are two of the regions targeted for this type of grants.
Value-Added Producer
With the "Value-Added Producer" grant, the USDA directly targets rural crops and livestock farmers. Administered on the state level through your local Rural Development Office, money from the program can be used by farmers, ranchers, agricultural product producers and other rural business ventures as working capital or for marketing efforts to increase awareness of value-added products, as well as for the development of farm-based renewable energy.
Rural Business
The Rural Business Opportunity Grant is a USDA program that offers funds to entrepreneurs in cities or towns with a population under 50,000. As of 2011 the maximum award is $50,000, which can be used to develop markets and provide training or other types of education and assistance for rural entrepreneurs. If you can make a strong case on the application for your cattle herd endeavor, there's a good chance you may find yourself the recipient of this type of grant.
References
Writer Bio
Derek Dowell has ghostwritten dozens of projects and thousands of blogs in the real estate, Internet marketing and travel industry, as well as completed the novel "Chrome Sombrero." He holds a Bachelor of Science in environmental legal studies from Missouri State University.