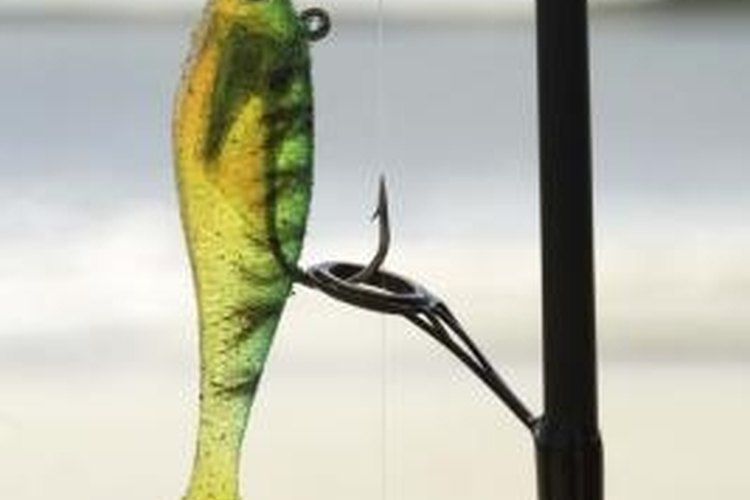 Walleyes are a popular game fish stocked throughout lakes and rivers in the United States. Sports fishermen seek this fish by many methods, including crank baits and live bait. The most popular method for catching walleye is jigging. Several jigs are specially tailored for walleyes.
Jigging
Walleye jigging usually occurs from a boat; however, it can also take place from a pier or bridge that extends over water. According to the Fishing Minnesota website, jigging allows anglers to utilize bait-casting rods and reels with a small plastic or metal jig. By dangling a jig in the water and jerking it up and down, you simulate a darting fish. This motion will entice a passing walleye to strike at the jig.
Shad Jigs
In most rivers, lakes and ponds where walleye dwell, shad or shiners grow in abundance. Various tackle companies have designed jigs to resemble shad. Shad jigs are popular because the lure is small and simulates a scurrying minnow. To be successful, anglers need to employ shad jigs in deep water or around submerged stumps. Shad jigs are metal with rubber or a plastic material placed over the hook. The rubber or plastic material is fashioned to resemble a shad. The proper size jig for walleyes is 1/8-ounce, but using a 1/4-ounce jig also works well, according to the website Walleye Central. Additionally, a white rubber shad covering works well in shallow water flats.
Crappie Jigs
Crappie jigs are not just for crappie and panfish. Walleye don't discriminate between a large bait fish and a small minnow. Walleye will strike hard at a lure as it moves past their general vicinity, so a crappie jig will tempt a passing walleye. Use crappie jigs with a two-hook rig. Position your boat over a good location where walleye may frequent and dangle the jigs over the side of the boat.
Round Head Bucktail Jigs
These jigs are deadly for walleye. They are some of the most colorful and popular jigs, according to the website Walleye Central. The best sizes are 1/32-ounce and 1/16-ounce jigs. Constructed out of soft steel, the top of the hook has a round metal head slightly larger than an inch in size. Surrounding the hook is processed deer hair, dyed in various colors. When it enters the water, the deer hair flutters with the current; as you retrieve, the deer hair becomes straight. The erratic nature of the lure underwater makes it enticing to a walleye. Fish round heads vertically from a boat, or cast and retrieve over submerged wood.
Live Bait Jigs
Basic in their design, these jigs are used with live bait. The short-shafted hook condenses the jig for superior hooking performance. These jigs are deadly on walleyes when tipped with a leach, minnow or a night crawler. Also try drifting or jigging a standard plastic grub or shad and add a night crawler, leach, or minnow.
Fishing Jigs for Walleye
When fishing for walleye, use light tackle. Use an ultra-light casting rod that is no more than eight feet long, with around 8- to 15-pound test line. According to the website In Fisherman, white perch are carnivorous fish that like to ambush their food near the bottom of waterways they inhabit. Jigs that are solid white or yellow and red in color work well in both murky and clear conditions. When fishing a shad jig, cast into channels, over grass beds and rock structures.
Photo Credits
Jupiterimages/Brand X Pictures/Getty Images