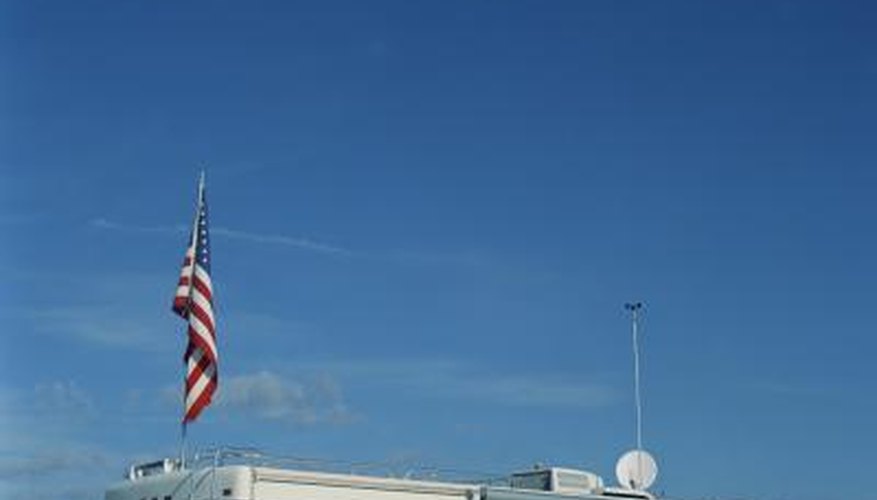 A leaking batwing antenna can cause quite a mess inside your fifth-wheel camper. The batwing antenna is known for leaks forming around the antenna's quad-rings. When not properly repaired, the leak you are experiencing can grow into a larger problem. With the proper maintenance, you can keep your batwing antenna problem-free.
Items you will need
Silicone spray

Plastic putty knife

Quad-ring replacement kit

Sealant
Step 1
Track the path of the leak. If the water is leaking straight down the antenna shaft, the source of the leak is probably the quad-ring. If the leak is around the outside of the hole, the water is coming from some source on the roof and not from a problem with the antenna.
Step 2
Check the quad-ring seal that goes around the shaft. The seal should be lubricated and not brittle. If the seal is brittle, this is the source of your leak. When the seal dries, it allows leaks.
Step 3
Flood the antenna shaft with silicone spray lubrication. Sometimes the silicone will make the quad-ring seal expand, stopping the leak.
Step 4
Replace the quad-ring. If the quad-ring seal is cracked, this is most likely the source of your leak. You will need to replace the quad-ring seal.
Step 5
Check the point where the antenna goes through the roof. If water is leaking from the base of the antenna, use a plastic putty knife (available at any home repair store) to remove the current sealant. The sealant is a caulk-like substance that goes on fluid and becomes solid. The sealant is used to seal the antenna base to the roof of the RV. Lift the base and check for cracking or loose seals. Apply new sealant and reattach the base to the roof. Check with your RV's owner manual to determine what type of sealant is recommended for use on your RV roof.
References
Writer Bio
Holly Long has worked in the publishing field since 1991. She has written and edited for newspapers in Georgia and Oklahoma, as well as for a book publishing company in Kentucky. Long now serves as editorial coordinator for a medical journal. She earned her B.A. in journalism and political science at Western Kentucky University.