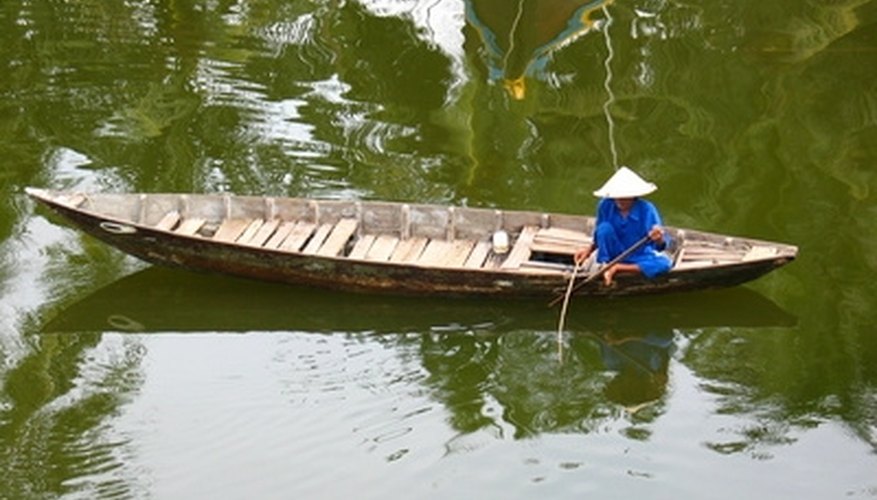 Anglers are always looking for an edge and a way to make their baits more attractive to fish. That is why many of them -- especially ice fishermen -- use glow sticks. Although glow sticks are most useful at attracting fish in stained or murky water, you can also used them to attract fish in deep water where sunlight does not penetrate. You can find glow sticks in a variety of sizes. Ice fishermen typically use 1-inch glow sticks, but ocean fishermen often use glow sticks as long as 6 inches.
Items you will need
Fishing rod and reel

Fishing lures

Glow sticks
Attach a glow stick directly to the lure you are using. Most anglers use them on lead-head jigs or plain hooks. Find the sleeves that came along with the package. Thread the glow stick into the sleeve to attach it to your lure.
Jig with the glow stick. Drop your jig or hook, adorned with a glow stick, to the bottom. Lift it off the bottom in a jigging motion. Allow the jig or hook to fall back to the bottom on a slack line.
Drop your jig or hook to the bottom, reel up 6 to 12 inches, and keep the lure stationary at that depth. The glow stick will attract fish. This method is especially useful when the fish are not activity feeding.
Attach a small glow stick to the end of your fishing rod, if you are fishing at night. Rod tips can be difficult to see in the dark, so attaching a glow stick will help you see better and alert you when a fish is biting.
Use a glow stick to attract fish when ice fishing. Drop a jig and glow stick to the bottom and then reel in slightly so the glow stick is about 6 inches off the bottom. Fish using a lure without a glow stick in a hole nearby. In this instance, the glow stick will attract fish, but you will use the other lure to catch them.
References
Writer Bio
Larry Anderson has been a freelance writer since 2000. He has covered a wide variety of topics, from golf and baseball to hunting and fishing. His work has appeared in numerous print and online publications, including "Fargo Forum" newspaper. Anderson holds a Bachelor of Arts in print journalism from Concordia College.