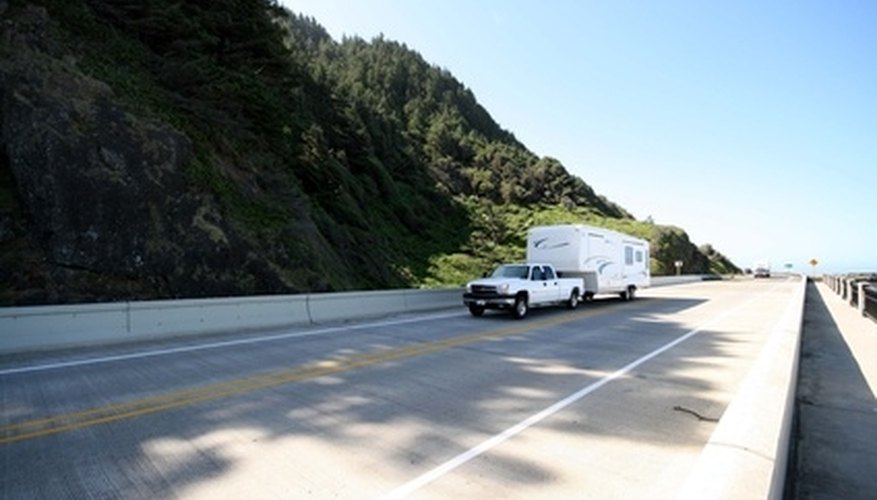 Fifth wheels are towable travel trailers that are designed to be towed by a pickup truck. For a truck to tow a fifth wheel, it must first be equipped with a special hitch that's mounted to the bed of the truck. Most fifth wheels are outfitted with all the comforts of home, including kitchens, bathrooms and bedrooms, and are perfect for family camping trips and weekend getaways.
Manufacturers
There are numerous fifth-wheel manufacturers, but there are a number of them, according to recreational vehicle review site Roaming Times, that tend to outshine the others. These manufacturers include Carriage (located in Millersburg, Ind.), Dutchmen (Goshen, Ind.) and the best-selling fifth-wheel manufacturer (according to Roaming Times), Coachmen (Elkhart, Ind.). Gulf Stream Coach (Nappanee, Ind.) and Jayco (Middlebury, Ind.) are both popular and the least expensive manufacturers.
Furnishings and Accessories
Fifth wheels come with a variety of accessories and features. Depending on your camping lifestyle, accessories can include shade awnings; outside showers; queen- or king-sized beds; triple bunk beds; hide-a-bed sofas; smoke detectors and fire extinguishers; kitchenettes with mini-refrigerators, mini-ranges and microwaves, flip-down tables and coffeemakers; rocking recliners, TVs; radios; air conditioners; heaters; and bathrooms with showers. Some high-end models also include flat-screen TVs with DVD players and surround sound; full bathrooms with showers and bathtubs; and kitchens with full-sized tables and full-sized refrigerators, dishwashers, ranges and microwaves. They can also feature expandable living rooms and bedrooms with one or two slide-outs. (Slide-outs are living areas that can be mechanically extended past the normal width of the trailer, making the room larger, and later slide back in when not in use.) Many appliances in fifth wheels run on both propane and electricity; some units, called three-way appliances, even run on DC batteries.
Fifth Wheel Sizes
Fifth wheels range between 22 to 40 feet in length and approximately 8 1/2 feet wide (not including slide-outs). Slide-outs can increase a fifth wheel's width in a particular area of the vehicle by several feet. According to Camping Earth, a camping guide site, the most popular fifth-wheel sizes are between 32 to 36 feet in length.
Size of Towing Truck
The size of the truck towing the fifth wheel trailer should be directionally proportional to the size of the fifth wheel itself. For example, Mike Lindsey from etrailer, an RV and trailer accessory and installation facility out of Wentzville, Mo., recommends using a full-sized 3/4-ton truck such as a Chevy, GMC 2500, Dodge Ram 2500 or a Ford F-250 to pull a 16,000-lb., 36-foot fifth wheel. Smaller 22-foot fifth wheels can be towed using a 1/2-ton truck, as long as the truck is equipped with four-wheel drive.
References
Mike Lindsey; etrailer consultant; etrailer.com; Wentzville, Missouri
Writer Bio
Christa Kerley has a B.A. in anthropology with emphasis in archaeology. She also has certificates in geographic information systems and cultural resource management. Kerley was author and distributor of a nonfiction newsletter for several years, and has worked since 1997 as a freelance copywriter and research writer. Some of Kerley's published works can be viewed at eHow, Bukisa, Suddenlyslim.net, Answerbag, and Pluck on Demand.