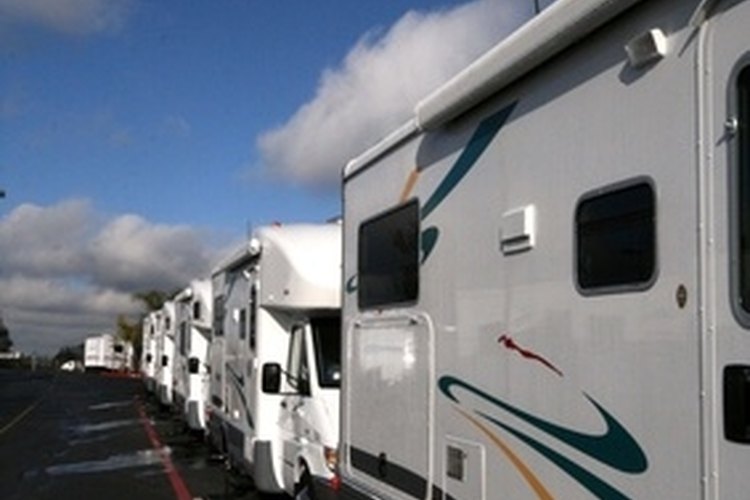 You might have the heart of a wanderer or an eye for the simple life, but if fifth-wheel living is what you seek, it will pay to do some research on the best fifth wheels available to live in on a permanent basis. Life in a fifth wheel will bring both flexibility and adventure (if you keep it mobile), but you don't have to give up some of the comforts of home in order to live in a trailer. The fifth wheel models below could make everyday life a little less like camping.
Excel Limited 36TKE
Forget about the tent trailers equipped with a foldout bed and a tiny kitchen sink. Excel's Limited 36TKE is a comfortable home on wheels. With a floor plan that provides a living room, bedroom, bathroom and kitchen, the Limited 36TKE provides room enough for everyday living. The fifth wheel provides washer and dryer hookups, solid wood cabinetry and Moen-brand faucets. Central air and thick insulation will keep you comfortable regardless of where you are parked. The 36TKE comes with both a queen bed (and all bedding) as well as a wrap-around sofa hide-a-bed. If you need a bit more luxury, you can upgrade to a king-sized bed or larger flat-screen TV. The Excel is available in sizes from 30 to 36 feet.
Excel Limited 36TKE
excelrv.com
Jayco Eagle
If you are living on your own or with your spouse or partner, check out the Jayco Eagle---the self-proclaimed "RV for lovers." The Eagle, measuring 31 feet, features laminate wood flooring, wood cabinets with custom hardware and a stone fireplace for chilly evenings. With excessive storage in each section of the trailer, you can keep your fifth wheel tidy and clean. Buyers can opt for a table and chairs in lieu of a dinette, or a sectional L-lounge in place of recliners. It also has an indoor and outdoor shower.
Jayco Eagle
jayco.com
Holiday Rambler Savoy
Available in five different floor plans, ranging from 28 to 33 feet, the Savoy by Holiday Rambler can be customized to your needs and lifestyle. Any floor plan includes a roomy bedroom with two separate wardrobes, plus a chest of drawers and extra storage space under the queen-size bed. Be entertainment-ready with a home theater surround-sound center that comes standard in the Savoy. A hide-a-bed couch, swing-out bunk bed and optional slide-out with sleeper sofa will make sure visitors have a place to rest. In addition, it offers blackout shades, remote-controlled air conditioning and full-size shower for extra comfort.
Holiday Rambler Savoy
holidayrambler.com
Gulf Stream Coach: Yellowstone
If you miss the subtle amenities of home like decorative curtains, a work desk, linoleum and wood doors to partition off separate rooms, you will enjoy living in the Yellowstone fifth wheel by Gulf Stream Coach. A roomy trailer, the Yellowstone's detailed features---like wallpaper borders and a wine rack---might look a little more like a suburban home than a mobile camp trailer. Even the optional French doors open to a pull-out porch perfect for mild evenings. Available from 30 to 37 feet, the Yellowstone can be customized to meet your specific needs.
Gulf Stream Coach Yellowstone
gulfstreamrvtrailers.com