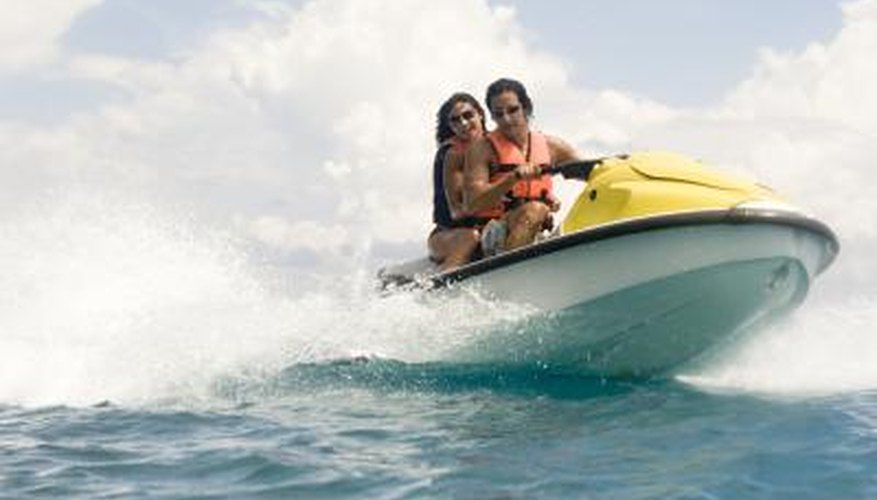 While a swimsuit or shorts and a T-shirt might seem like perfect attire to wear when riding a personal watercraft, these items come with distinct disadvantages. Cotton T-shirts and denim shorts hold water when wet, becoming heavy and soggy, taking hours to dry. Bathing suits dry easily, but leave skin exposed to wind and damaging UV rays from the sun. Specially designed clothing and accessories let you focus on adventure without worrying about discomfort.
A Vested Interest
The most crucial part of your wardrobe when on the water is your personal floatation device. Many states require you to wear a life vest when riding a personal watercraft. Should you get involved in an accident, a PFD increases your chance of survival if you are injured and end up in the water. Type III PFDs look like vests with several straps that secure the vest to your body. Vest materials bend with your body to give maximum comfort and flexibility and come in bright colors or basic black. Materials include neoprene, nylon and Ecoprene. Make sure your life vest has a label stating that it is suitable for riding personal watercraft or for water skiing.
The Bare Basics
Staying cool doesn't mean you have to expose your fair skin to the sun. Quick-drying fabrics made of Lycra, nylon and polyester blends stay lightweight while retaining just enough moisture to keep you cool. You'll find items such as technical board shorts, T-shirts and polos designed to dry fast and keep you looking stylish on your ride. If you decide to wear a bathing suit, bring along a shirt or cover-up to protect you from the sun's damaging rays. Synthetic fabrics such as nylon, polyester, and Lycra not only dry quickly, but they provide extra UV protection for your skin.
Beat the Cold
Wear a wet suit to extend the riding season or deal with icy lake water. Neoprene wet suits hold in body heat when wet and come in a variety of styles to adapt to a host of weather conditions. You'll find sleeveless styles with removable jackets, one-piece wet suits with long or short sleeves and legs, and separates such as shorts and jackets. Underneath, start with a thin base layer known as a rash guard to ensure all-day riding comfort. Quick-drying rash guards prevent friction between your wet suit and skin.
Remember to Accessorize
Watercraft riding boots or water shoes provide your feet with a non-slip surface while riding and allow water to drain quickly away. Sturdy soles give your feet protection when you want to stop to explore a hidden cove. Gloves help maintain a secure grip on the watercraft while protecting your hands from sun and wind. Sun goggles reduce the water's glare and remain securely on your head under most conditions. Some life jackets include cords to attach the goggles, ensuring they never get lost.
References
Writer Bio
Indulging her passion for wide open spaces and outdoor fitness through the written word on a full-time basis since 2010, author Jodi Thornton-O'Connell takes the mystery out of outdoor skills and guides readers to discover fun ways to physically connect to natural surroundings.