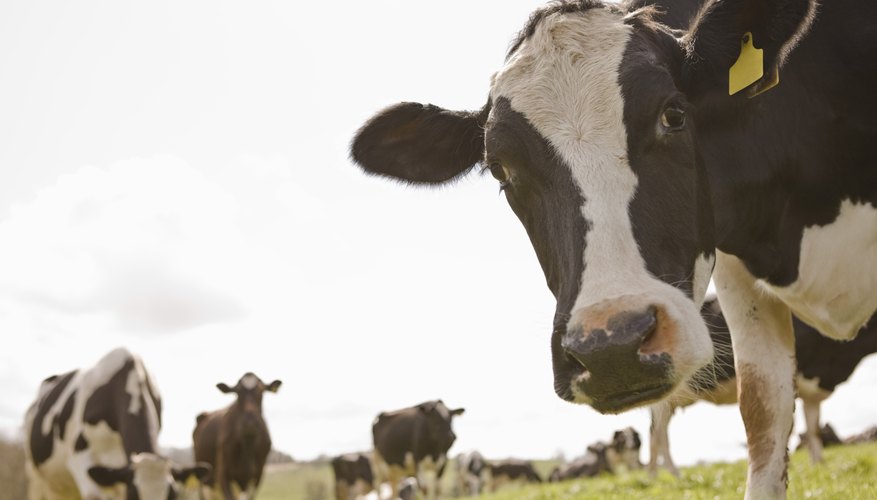 Cattle can be one of your biggest assets when you're in the farming or ranching business. As with other business assets, you can claim depreciation on the purchase cost of your cattle as a way to lower your short-term tax bill. However, you can only depreciate cattle purchased for breeding or dairy purposes. Cattle held for the primary purpose of resale are not eligible for depreciation.
Depreciation Period
Under the most common depreciation method, you can depreciate cattle over a five-year period beginning on the date you purchase the animal and put it into service. If you buy an animal while it's immature, begin depreciation on the date it reaches maturity. For breeding cattle, use the date an animal is old enough to be bred. For a dairy cow, use the date it can be milked.
Cost Basis
Your cost basis is the amount you paid for each animal. You must maintain a separate accounting for each cow or bull. Cattle raised from your own herd are not eligible for depreciation, as your cost basis is zero. Costs you incur to raise an animal, such as feed and veterinary care, should be deducted as expenses the year they occur and should not be added to the cost basis.
Section 179 Deduction
Breeding and dairy cattle are also eligible for the Section 179 deduction, which allows you to depreciate the entire cost of the animal the first year. This deduction is in effect for the 2014 tax year, with a maximum limit of $25,000. This deduction requires reapproval from Congress each year.
Inventory vs. Assets
If you include your breeding or dairy cattle in the same inventory you use for reporting the cost of the cattle you hold for resale, you cannot claim them as capital assets and cannot claim depreciation. Instead, you must continue including the cost of the breeding and dairy animals in your inventory. You cannot change your method and begin claiming depreciation unless you get prior approval from the Internal Revenue Service.
References
Writer Bio
Alan Sembera began writing for local newspapers in Texas and Louisiana. His professional career includes stints as a computer tech, information editor and income tax preparer. Sembera now writes full time about business and technology. He holds a Bachelor of Arts in journalism from Texas A&M University.