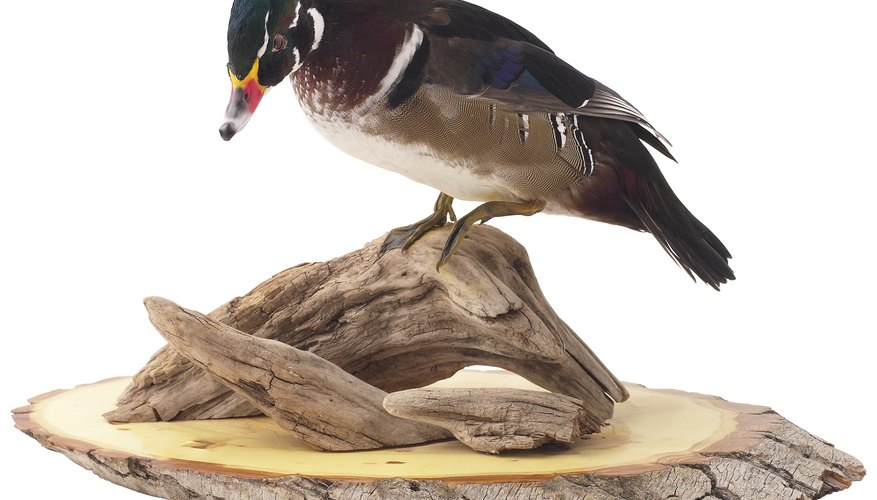 Using Borax is a cheap and effective way to preserve bird specimens, whether it's a whole bird or parts of the bird. The Borax works in two ways. It pulls moisture from the skin and internal parts and works as an insecticide to kill feather lice and other insects that may damage the specimen. Once the Borax is brushed off, the bird can be set up for display or used for education programs.
Wear latex gloves and goggles when working with Borax. Although Borax is considered to be relatively nontoxic to humans (unless ingested in large amounts), it can cause skin and eye irritation, reports Beyond Pesticides.

Place a mounted whole bird specimen into a garbage bag. Pour enough Borax to cover the bottom of the bag and provide a light coating over the entire bird. For example, for an average duck-size bird, use five cups.

Use a shoebox for small birds and small parts such as wings and heads. Coat the bottom of the box with about 1/2 inch of borax. Place the bird or parts on top of the Borax. Sprinkle a light coating of Borax over the bird before closing the lid.

Rub Borax directly onto the exposed meat of cut wings and legs when drying the parts in the open. Sprinkle some Borax over the feathered parts. Small legs tend not to need Borax to dry; thicker legs, like those of large turkeys, may need a sprinkling of Borax over the entire leg.

Dry the bird and/or parts with the Borax for four weeks. Once finished, dust off the Borax with a paintbrush.

Under the federal Migratory Bird Treaty Act, it is illegal to possess native bird parts without proper permits.
References
Writer Bio
Lynn Anders has more than 15 years of professional experience working as a zookeeper, wildlife/environmental/conservation educator and in nonprofit pet rescue. Writing since 2007, her work has appeared on various websites, covering pet-related, environmental, financial and parenting topics. Anders has a Bachelor of Arts in environmental studies and biology from California State University, Sacramento.