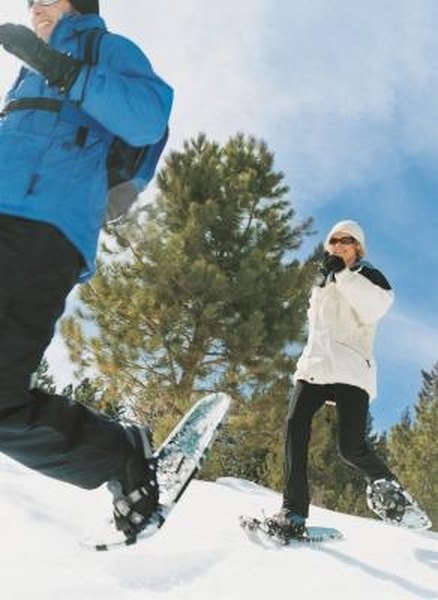 There is great variety among ski and down jackets, but a few characteristics are standard for the two categories. Look at the type of material each jacket is made from to determine the type of activity it is best suited for. If you are buying the jacket new, the tags are helpful in telling you how the material is designed to perform and what each feature provides you.
Exterior Material
Jupiterimages/Photos.com/Getty Images
Ski jackets are generally made with waterproof material, such as Gore-Tex. This fabric was designed to breath as well as repel water. It is also a tough material that can withstand the risk of ripping when skiing by trees. Down jackets are generally made out of polyester or nylon, and can rip easily. They are not designed to perform in high-intensity sports. Also, the fabric is generally not waterproof. Once the down filling -- the feathers -- become wet, the down loses its loft. Loft is the characteristic that makes the jacket puffy and soft. Once wet, the jacket will not keep you warm. If the seems are sealed, the jacket will be waterproof.
Warmth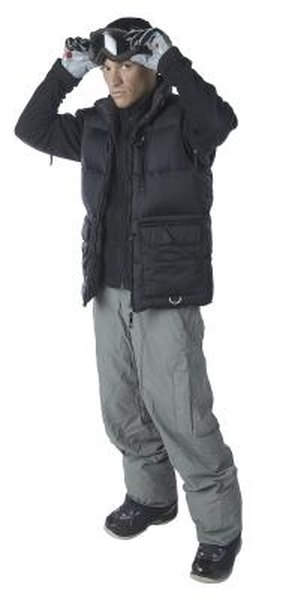 NA/PhotoObjects.net/Getty Images
Down jackets tend to be warmer than ski jackets. The down filling creates air space between your body and the elements that maintain a high degree of warmth. Layering is the key to regulating your body's temperature while being active. Cooling your core temperature can be as easy as taking off your gloves or your middle fleece layer. Ski jackets can also have a shell exterior and a zip-in fleece that creates the layering for you and keeps you warm.
Features
Features added to jackets can increase their functionality and make your activity more comfortable. Pit zips tend to be a part of ski jackets. They let the warm air created inside of your jacket out by unzipping a slit in the armpit. A hood is a great feature to have on any jacket that is going to be your outermost layer. It protects your head and keeps you warmer. Pockets come in all sizes, placements and shapes -- you must decide the pocket that works best for you.
Cost
Down jackets tend to be a bit more expensive because the feathers come from nature, rather than a factory like the synthetic material found in ski jackets. High-quality outdoor gear companies will sell both of these jackets at high prices, but it is possible to buy them cheaper. Many online outlets such as Gear Trade, Backcountry.com and Steep and Cheap sell outdoor gear at a discount.