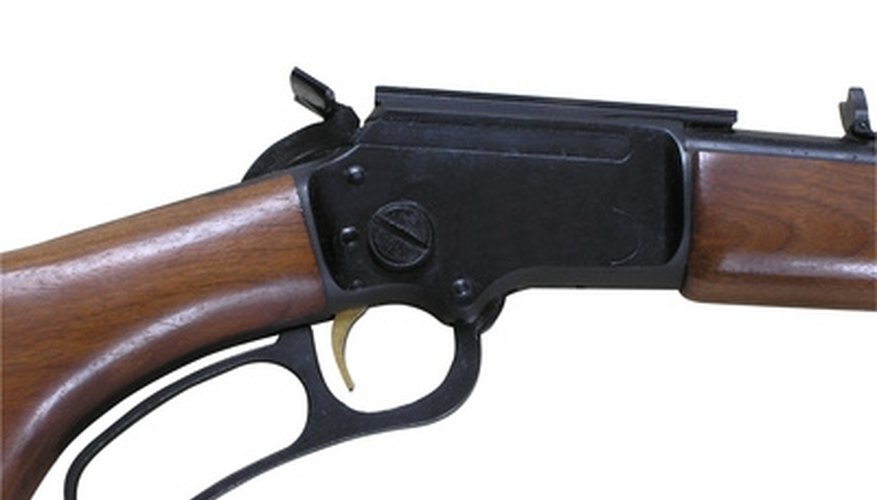 Winchester, by far, is the most famous name in firearms. The model 1873 is commonly known as The Gun that Won the West. Owning any firearm, however, is owning a piece history. Whether it be the famous Winchester Repeating Rifle, the Model 70 bolt action hunting rifle or any other make of firearm, owning a firearm is owning a piece of history. Part of it is due to the stories behind these weapons and because a well-made firearm can last centuries. Discovering the history of your Winchester can be an easy, straightforward process that will enhance the enjoyment of ownership.
Identify the firearm. You should be able to identify the make, caliber and type of firearm. Most often, the information you need will be found in any instruction manual you have for the weapon. It will also be stamped on the right side or left side of the barrel, usually just ahead of the chamber.
Write down the serial number. It is located in front of the chamber and often also stamped on other major parts that can be discovered upon field stripping your firearm. Sometimes old or refurbished firearms will have different serial numbers on different parts. An older weapon with matching serial numbers throughout will be more valuable than firearm rebuilt with parts from different firearms.
Do an online serial number search. You can find the year a Winchester rifle was made by doing a database search free on the Internet. The website oldguns.net has a handy database for Winchester arms including lever-action rifles such as Model 1873, slide-action models such as the Model 61, bolt action rifles such as the Model 70, semi-automatics and shotguns. Simply click on the model number of your firearm and enter the serial number.
Do a Records Check. The Cody Firearm Museum, part of the non-profit Buffalo Bill Historical Center, can provide you with a detailed record of your Winchester firearm for fees ranging from $35 to $250 as of July 2010. With a serial-number search they may be able to tell owners such things as shipping dates, warehouse shipped from, trigger and stock information as well as other features of the firearm.
Not all records are complete at the Cody Firearms Museum. Somer records have been lost over time.
References
Warnings
Not all records are complete at the Cody Firearms Museum. Somer records have been lost over time.
Writer Bio
Greg Blankenship is a Springfield, Ill.-based writer who has been covering public policy and politics professionally since 2002. He has written for "The American Spectator," "The Springfield State Journal-Register," "The Champaign News-Gazette" and "The Suburban Daily Herald." His focus has been on health care, public finance and economic issues. Blankenship holds a Master of Arts in international studies from Loyola University of Chicago.