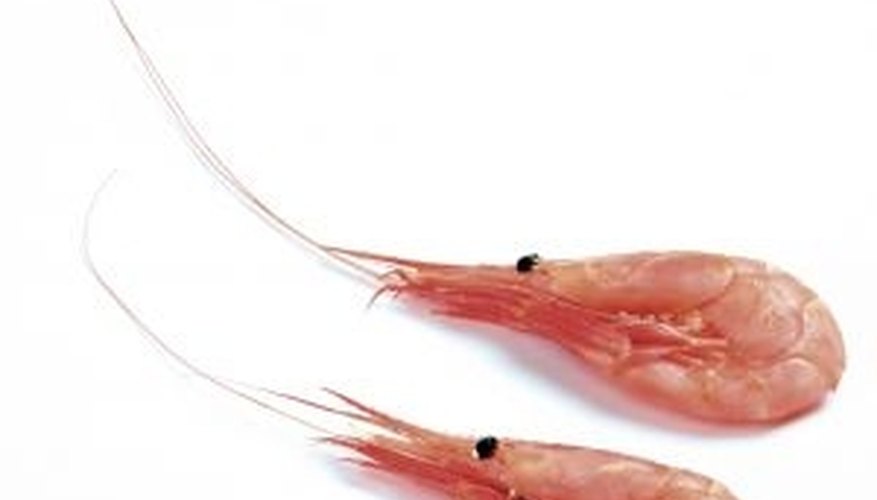 Bait shrimp is one of the cheapest and most common types of fresh bait used in both saltwater and freshwater fishing. Anglers choose it because it can be purchased all year, and it is successful with many types of fish species, including bass and trout. Curing bait shrimp helps keep the flesh firm so the bait lasts longer on your fishing line.
Items you will need
Microwave

Quart-sized mayonnaise jar

Table salt

2 lbs. headless bait shrimp
Obtain large shrimp that have had their heads removed. The larger the shrimp, the easier it is to cure and the least likely it is to disintegrate or fall apart while fishing. Larger shrimp will lower your chances of accidentally catching a fish that is too small. Typically, anglers choose raw, non-frozen jumbo shrimp from the supermarket or refrigerated shrimp from a bait shop.
Cure the bait shrimp in your microwave. Cut the shrimp into half-inch pieces, and microwave on high for one to two minutes, or until the shrimp edges start to turn orange. This is the fastest method of curing for bait shrimp, and it helps solidify and firm the flesh to make it easier to fish.
Use brine curing, a more complex curing method that many anglers choose because it increases the shrimps' scent,, thus potentially attracting more fish. Prepare the shrimp by cutting the raw shrimp into half-inch pieces.
Pour half an inch of table salt into the bottom of the mayonnaise jar. Empty some shrimp peices into the jar, a single-layer thick. Cover with another half-inch of table salt, and add second layer of shrimp. Repeat until the jar is full.
Let the shrimp sit in your refrigerator for 14 days. This intensifies the scent of the shrimp while the brine cures the flesh, making the shrimp tougher and firmer so that it stays on your fishing hook. Remove shrimp pieces as needed, and place them in small plastic bags to take on your next fishing adventure.
Consider using a bait sauce or scent solution, whether you cured your shrimp with salt or in a microwave. Examples include Pro-Cure's bait scents and Tackle Nation's bait sauce, which you can spoon over your cured shrimp to further increase its scent.
References
Writer Bio
Joshua Duvauchelle is a certified personal trainer and health journalist, relationships expert and gardening specialist. His articles and advice have appeared in dozens of magazines, including exercise workouts in Shape, relationship guides for Alive and lifestyle tips for Lifehacker. In his spare time, he enjoys yoga and urban patio gardening.