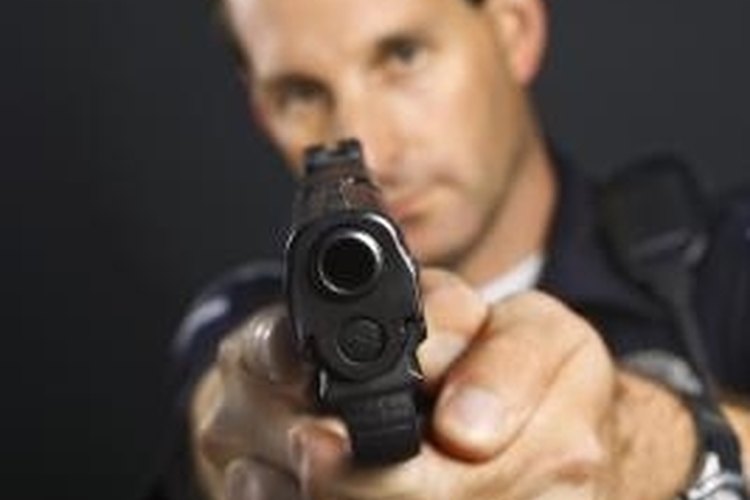 Sig Sauer is a firearms manufacturing company. They began their success in the U.S. in 1985, when SIG started to distribute the P220 semi-automatic handgun. Sig Sauer makes handguns and rifles that can be found and purchased at any local gun dealer. The weapons need to be cleaned after each shooting session or whenever you think your firearm is not functioning up to par. After the firearm is unloaded and field-stripped, it can be cleaned.
Handguns
Drip the gun oil onto the cleaning brush and insert the brush through the barrel. Remove all dirt and residue inside the barrel with the cleaning brush.

Use a cleaning cloth to rid the inside of the barrel of power residue or gun oil residue.

Use the cleaning brush moistened with gun oil to clean the external surfaces of the barrel.

Wipe the dirt off the frame and external sides of the slide, locking insert, recoil spring guide, and recoil spring with the second cleaning cloth. Then oil the gun with the same cloth, dampened with gun oil.

Oil the chamber and barrel bore lightly to provide protection.
Rifles
Clean the barrel and chamber from the rear with a cleaning brush and gun oil.

Clean the surface and other parts of the rifle with a cleaning cloth, removing the carbon and firing residue. Clean in detail the chamber areas and bolt face.

Gently lubricate areas of metal-on-metal contact with gun oil, especially the bolt, recoil spring assembly and receiver rails.

Apply a light coating of gun oil over all surfaces of the gun by dampening a cleaning cloth with the oil. This will provide protection from corrosion.

Reassemble the rifle and perform a function check.
Items you will need
Gun oil
Cleaning brush
4 Cleaning cloths
Tips
Use a suitable cleaning rod and brush for the caliber firearm that is being cleaned.
Exact cleaning instructions may differ from model to model. Make sure to refer back to the owner's manual that was included with your Sig Sauer firearm for precise instructions for your specific model.
Warnings
Never clean the barrel from the muzzle end and never use a wire brush; the bore could become damaged.
Solvents and cleaners can damage the surfaces of the firearm.
Photo Credits
Jupiterimages/Comstock/Getty Images