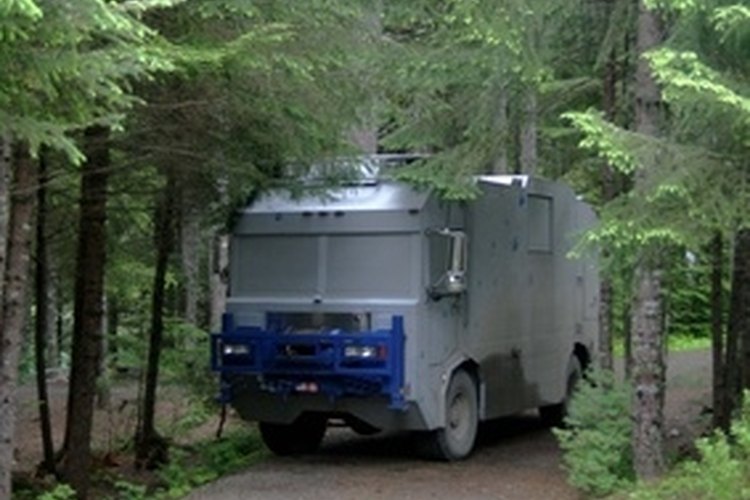 A 2011 consensus isn't completely in on the best chemicals to use in your trailer's black water tank -- the tank that holds toilet waste. Many people use liquid or dry throw-in chemicals made of enzymes that quickly dissolve fecal matter in an environmentally sensitive way. All varieties, of course, include an odor controlling element. Other people just use household cleaners -- some with formaldehyde -- to contain the smell and sludge of the black water tank, but those chemicals may be damaging the nation's environmental resources.
Enzyme-Based
Many RVers recommend enzyme-based chemicals and odor fighters like the ones from Aqua-Kem, Enviro-Chem or Odorlos, which contain live bacteria to break down and digest the odor-causing waste. Many of these types of cleansers are inspected to ensure they meet environmental regulations. Check the label to make sure you're getting what you pay for, and go with the treatment that smells and cleans the best.
No Formaldehyde, Not Homemade
Several government agencies and municipalities have forbidden the use of formaldehyde-based products in camping or recreational vehicle tanks. These concoctions are largely homemade and aren't approved by any government agency. Formaldehyde has proven to be a threat to septic systems and, potentially, ecosystems. According to the Washington State Department of Transportation, commercially sold cleaners "will have no adverse effect on biological sewage treatment systems," but "homemade mixtures of household cleaners and disinfectants should be discouraged, as the proportion of each ingredient has not been established and the minimum quantity to control odors and biological activity are unknown."
Liquid Over Dry
When you empty your black and gray water tanks, clean the gray, or sink, water tank with the same liquid treatment you're using to clean the black water tank. Many dry cleaners come as time-release cartridges that won't work this way. Campers appear to be split on whether dry or liquid cleaners smell the best -- something largely up to the beholder.
When to Use for What?
Use the right amount of chemicals, usually about 4 ounces for a 40-gallon tank. Check your trailer's manual for the tank sizes and your cleaner's instructions for the proper concentration. Use a holding tank deodorant and cleaner that's been approved for public use, something typically indicated on the packaging. Don't use household cleaners, drain cleaners or antifreeze.