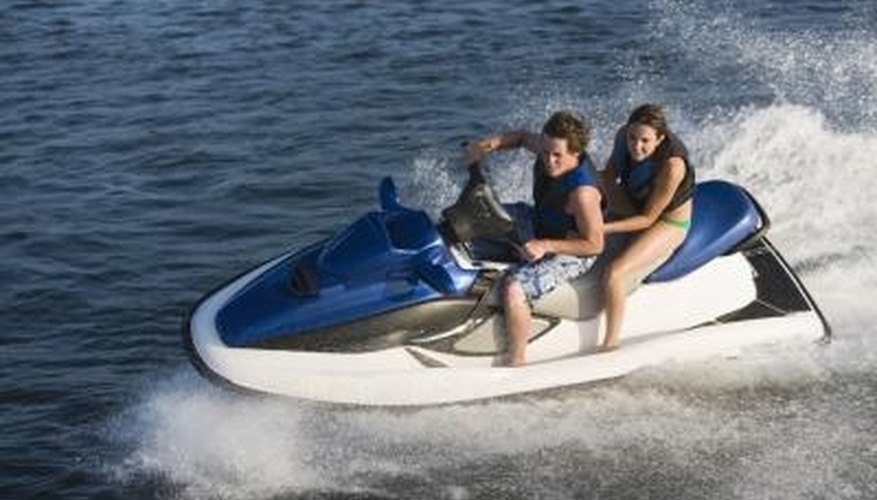 The Yamaha WaveRunner has a bilge, like any boat. It also has a bilge pump; if it didn't, the water trapped in the bilge would sink it, sooner or later. The Yamaha WaveRunner's siphon bilge pump is part of the craft's jet pump. This means that, to test the pump, you have to gain access to the bilge, inspect the the system and create the conditions under which the bilge suction operates when the WaveRunner is operating normally. Fortunately, you can do all this in your driveway.
Items you will need
Spirit level

Phillips screwdriver

Bilge strainer

Bilge hose

Yamaha garden hose adapter

Garden hose
Step 1
Take the WaveRunner out of the water and set it on its trailer. Level the trailer with a spirit level. Lift the latch under the back of the rear seat and remove the rear seat and the integral storage compartment. Lift the latch under the back of the front seat and tilt the front seat up to remove it.
Step 2
Locate the bilge hose on the starboard side -- the right side -- of the jet pump. Lift the end of the hose and remove the four screws from the bilge strainer, using a Phillips screwdriver. Separate the bilge strainer from the bilge strainer holder. Inspect the strainer for contamination and clean it, if necessary. If the strainer is cracked, replace it. Inspect the bilge hose for cracks and damage and, if necessary, replace it. Return the bilge hose and strainer to their initial position in the bilge.
Step 3
Remove the cover from the flushing hose connector, located on the starboard side of the centerline, directly below the handle bars. Insert the Yamaha garden hose adapter into the hose connector and turn clockwise to tighten it snugly.
Step 4
Fill the bilge, using a garden hose, until water covers the bilge strainer. Turn the garden hose off. Attach the garden hose to the flushing hose connector. Start the engine and turn the garden hose on, full force. Run the engine at idle for three minutes, watching the bilge water level. The water level should drop significantly.
Step 5
Turn the water supply off. Squeeze and release the throttle lever for 15 seconds, then shut the engine off. Remove the Yamaha garden hose adapter from the flushing hose connector and replace its cap.
References
"Yamaha WaveRunner GP1200 Service Manual LIT-18616-02-15 F0X-28197-ZA-11"; Yamaha Motor Co., Ltd; 2000
Writer Bio
Will Charpentier is a writer who specializes in boating and maritime subjects. A retired ship captain, Charpentier holds a doctorate in applied ocean science and engineering. He is also a certified marine technician and the author of a popular text on writing local history.