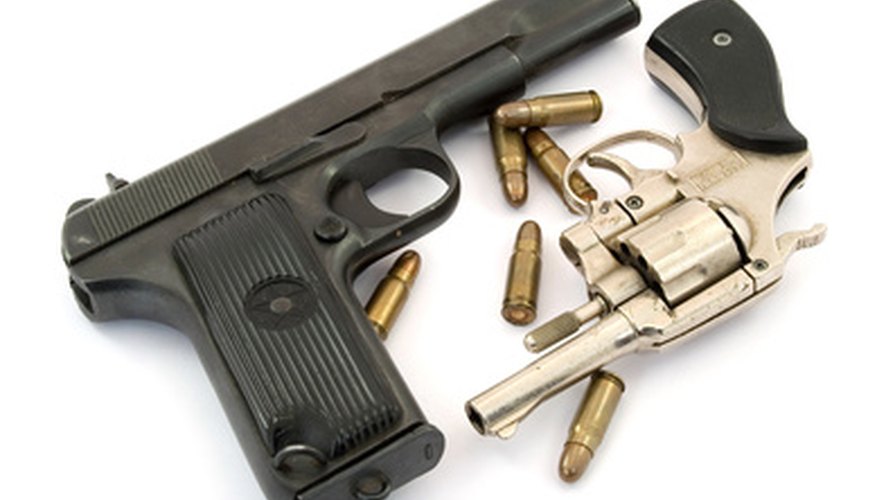 Under federal law, a gun manufacturer or importer must engrave or mark every gun it makes with a serial number on the receiver or frame. Law enforcement agents can use the number to determine the owner of the gun or learn if it was reported stolen, but a private individual cannot.
How to Find the Serial Number
If you're trying to find the owner of a gun or want to learn if a particular gun was stolen, you'll need to find the serial number engraved on the gun. Federal law mandates that the number be located in a conspicuous place on the gun receiver or frame. The law does not require that the number be any particular length, just that it be composed of letters and numbers. That means that gun serial numbers can include any number of characters. Therefore, any combination of letters and numbers you see stamped into the gunmetal is likely the serial number.
How to Track Ownership with the Serial Number
The Bureau of Alcohol, Tobacco, Firearms and Explosives (ATF) is legally authorized to track firearm ownership with a gun serial number. They do so through the ATF National Tracing Center. All law enforcement agencies have the right to submit trace requests, but private individuals do not. A trace requested by a law enforcement agency must be for the purpose of a criminal investigation or to prevent a crime or an act of terrorism. In fact, every firearm found by the police at a crime scene is the subject of a serial number trace.
Is there a legal way for an individual to track gun ownership using a gun serial number? You'll find online sites that claim to be able to track gun ownership with a serial number. But there is no guarantee that their information is valid or that use of the database is legal.
How to Determine Whether a Gun Is Stolen
You don't want to buy a gun that was stolen from someone else if for no other reason than you can get into trouble with the law. So, what if you buy a used gun from an individual and you want to know if it was stolen? Again, you'll find various websites that offer online databases of stolen weapons, but none run by law enforcement personnel.
Some websites allow gun owners to register stolen guns with them. They may offer search engines of the serial numbers of stolen guns reported to them, but they obviously are limited to the information they have. Many guns may be stolen that are not reported to these websites.
The only way to determine conclusively whether a used gun is stolen is to take it to a law enforcement officer. She can run the serial number to determine whether the gun was stolen or used in a crime. If it was reported stolen or used in a crime, the gun will be confiscated. If the gun is returned to you, you can be sure that the gun serial number is not listed as stolen.
References
Tips
Always keep a record of the serial number, manufacturer and model of every firearm in your possession and store this record in a safe, secret place. Report any firearm theft or loss to police immediately.
In recent years, microstamping technology has become increasingly popular and may be worth consideration. This technology imprints the serial number of your gun onto bullets as they are fired and can help law enforcement identify if your gun has been used in a crime, even if the gun itself is not found.
Warnings
It is a federal offense to deface a firearm's serial number. Be wary of anyone attempting to sell you a gun with a damaged serial number; if you are found with a defaced gun in your possession and have not reported it you may be convicted by law.
If your gun is proved to be stolen, you may be asked to surrender it to local law enforcement. Therefore, it is in your best interest to run all of the above checks before purchasing firearms from anyone other than a licensed dealer.
Writer Bio
From Alaska to California, Switzerland to Brazil, France's Basque Country to Mexico's Pacific Coast, Teo Spengler has camped, hiked, surfed and fished, and written articles lighting the way for others to do the same. A published novelist and professional writer, Spengler earned a BA from U.C. Santa Cruz, a law degree from U.C. Berkeley's Boalt Hall, and an MA and MFA from San Francisco State. She currently divides her time between San Francisco and southwestern France. Her articles about the joys of being in the great outdoors have been published online by Arizona Central, USA Today Travel Tips, Working Mother, Hunker, Go Banking Rates, Gardening Know How, Atlanta Journal Constitution and eHow,