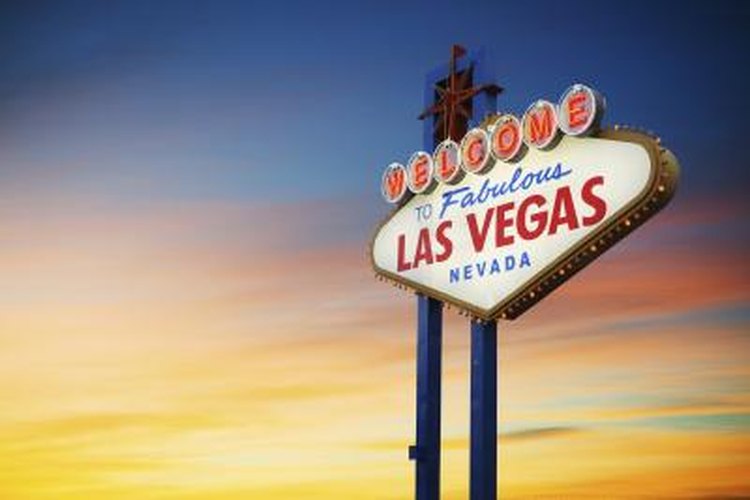 With its year-round dry, desert heat, the area of southern Nevada that is home to Las Vegas is already a pleasant enough place for RV camping without the much-vaunted attractions of Sin City. If you want to high roll at the tables but follow a tight budget for accommodations there are plenty of cheap RV parks near the strip--most clustered along the Boulder Highway. By booking ahead you should have no difficulty in finding a cheap spot to park your RV while in Vegas.
Parks Near Hotels
With two RV parks on the Boulder Highway, Sam's Town parks have the advantage of access to Las Vegas' second largest casino and all the amenities serving the adjacent hotel, such as the all-you-can-eat Firefight Buffet. The sites comprise 500 spaces with full hook-up, cable TV and phone, while you can also use on-site laundry and pool. A free shuttle service from Sam's Town Hotel runs to and from the Las Vegas strip. Just a 10-minute drive from the strip, Arizona Charlie's on Boulder Highway is another hotel/RV park combo, with 200 spaces for rigs up to 70 feet. Enjoy the clubhouse or the casino and four on-site restaurants
Old Timers
Two of the oldest RV parks in the business are Road Runner on Boulder Highway and King's Row near Sam's Town Casino. Established for over 30 years, Road Runner has 200 neat, shady spaces, laundry facilities, a pool, hot tub and dog run. The site was rated "immaculately maintained" by the California Travel Parks Association. King's Row, by contrast, has been serving the RV community for over 50 years. The park, with pool, laundry, recreation room and dog run, has 500 spaces, although many are long-term rentals for the retirement community.
Lively Spots
Duck Creek on Boulder Highway admits all types and sizes of RVs, with its 200 full hook-up spaces all fully connected to Wi-Fi. Amenities include a hot tub, game room and laundry, but you are also encouraged to mingle at cookouts and movie nights. The site will allow entry to RVs older than 10 years upon inspection, and pets of any age are welcome. The Hitchin' Post is another venue noted for its friendly ambiance, with 196 spaces within a gated enclosure. Ignore the noise of nearby Nellis Airforce base and relax instead in the on-site saloon, open 24/7, gaming hall, heated pool or fitness center. You can even submit your pooch to a hot water dog wash.
Local Favorites
Rated one of Allstate's best RV parks in America, Las Vegas Resort is also one of the largest, packing in 398 spaces, each with its own picnic table. The site has five-star amenities at budget prices, including laundry facilities, a meeting room and fitness center. The park is reserved for guests 21 years of age and older. Close to the strip, Riviera RV park offers the personal touch with both a manager and park maintenance living on-site. The site has 137 spaces, a swimming pool and free Wi-Fi.
Photo Credits
somchaij/iStock/Getty Images