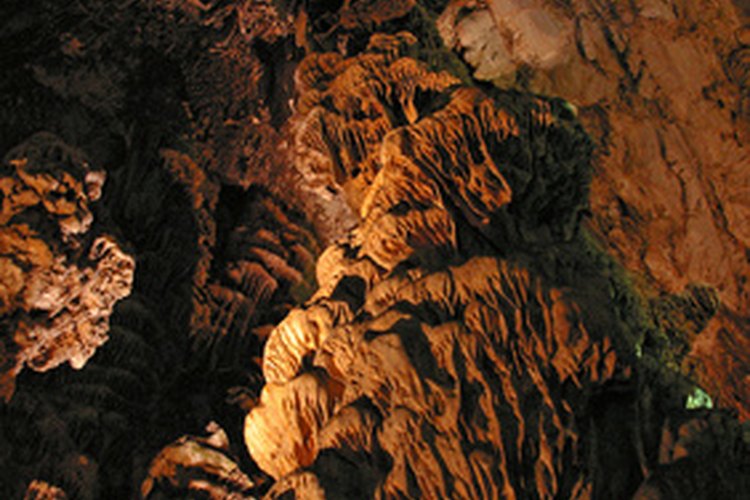 Galena is a quaint community located in northwestern Illinois. A host of outdoor and historical activities awaits visitors, including caving, horseback riding, bicycling and hot-air balloon rides. Three state parks situated along the banks of the Apple and Galena Rivers feature camping opportunities and rugged hiking trails around hills created thousands of years ago by ice age glaciers.
Crystal Lake Cave
Participants in Crystal Lake Cave guided tours will encounter hanging rock and salt formations while on the 45-minute experience. Miners drilling for lead discovered the cave in 1868. In 1932, one of the former lead miners opened the cave for public tours.
There is a gift shop featuring souvenirs and gems discovered inside the cave. Seasonal tours run from May through the end of October. Temperatures inside this Galena area cave remain at a constant 53 degrees year-round. As of 2010, the average adult admission price was $14 per person. Children ages 4 to 11 can participate in the tours for $6 apiece. Crystal Lake Cave is less than 10 miles from the town of Galena.
Crystal Lake Cave 7699 Crystal Lake Cave Road Dubuque, IA 52003 563-556-6451 crystallakecave.com
Vinegar Hill Mine
Vinegar Hill Mine, located less than 6 miles from Galena, offers 30-minute guided tours from June through the end of August. An on-site museum displays historic artifacts and photographs relating to the cave and mining history of the area.
As of 2010, the average adult tour cost $5 per person. Children ages 5 to 12 can participate in tours for $2.50 apiece.
Vinegar Hill Mine 8885 North Three Pines Rd. Galena, IL 61036 815-777-0855 galena.org
Maquoketa Caves State Park
Maquoketa Caves State Park, located 25 miles from Galena, features 13 prehistoric caves. Self-guided tours of the Maquoketa and Dancehall Caves are the largest and take approximately 30 minutes to traverse.
Visitors should plan to spend between 2 to 4 hours at this Galena area state park to tour all of the caves. Hikers should wear lightweight jackets and take a flashlight on the tours. A natural stone bridge hovers over Raccoon Creek, 50 feet below, offering access to remote caves.
The rugged trails through caves vary in height. Some trails, such as the one through Dugout Cave, allow hikers to walk standing up, and others require crawling through narrow passages.
The Maquoketa Cave State Park Interpretive Center offers historical and geological displays and events highlighting both the attributes of the caves and early settlers in the area. As of 2010, visitors to this state park entered free of charge.
Maquoketa Caves State Park 10970 Ninety-eighth St. Maquoketa, IA 52060 319-652-5833 stateparks.com/maquoketa_caves.html