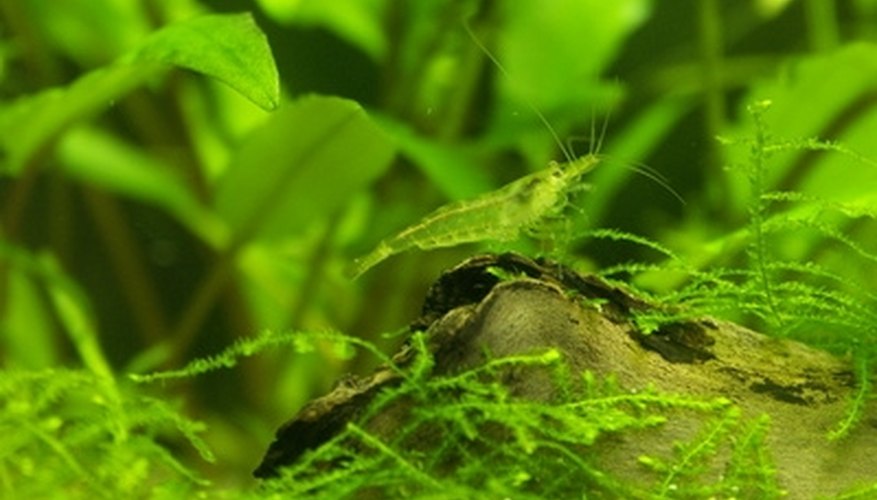 Whether you enjoy the sweet taste of Gulf shrimp, or like being out on the water, or need some bait, shrimping is a relatively easy pastime. If you have a boat and a modest amount of gear, you're well on your way to harvesting shrimp along Florida's Gulf Coast.
Items you will need
Florida fishing license

Tide chart

Bait bucket

Boat

Dip net

Head lamp

Gloves
Get a Florida recreational saltwater fishing license. These cost $17 annually for residents and $17 for three days for visitors. Florida residents can buy lifetime licenses while visitors can purchase licenses that are valid for more than three days. Purchase a license from the Florida Fish and Wildlife Conservation Commission. You may purchase a license online; if you don't wish to purchase a license online, local bait shops can help you purchase one.
Pick a night that has a low tide. If there is no low tide after dark, choose another night. Shrimp are easiest to see and, therefore, catch after dark. It is theoretically possible to catch shrimp in deeper (and therefore cooler) water during the day, but not many people attempt it. Take your cue from commercial fishermen and shrimp at night.
Find grass flats; these will be in a few inches of water at low tide, usually on the back side of the barrier islands that dot Florida's Gulf Coast. Anchor the boat just outside the flats, in water deep enough for it to float. If you can walk to the flats from a beach, you may not need a boat. In many instances, a vessel like a kayak is an ideal choice, provided it has room for your gear.
Clip your headlamp onto your hat and get out of the boat. Walk through the flats slowly, shining the lamp down.
When you see two tiny red eyes in the beam of the light, use the dip net to scoop up the shrimp. Do this quickly, as the shrimp will jump away.
Quickly remove the shrimp from the net with your hand and put it in the bait bucket. If left in the net the shrimp will jump out. If you've opted not to wear gloves, mind the spikes on the shrimp; they can cut you.
References
Writer Bio
Cathy Salustri started writing professionally in 1995. Salustri's work about Floridana, tourism and the environment appears in the "Gabber," "Southwinds Sailing" and Visit Florida Web and print publications. She is pursuing a Master of Arts in Florida studies at the University of South Florida, focusing on historic Florida tourist attractions.