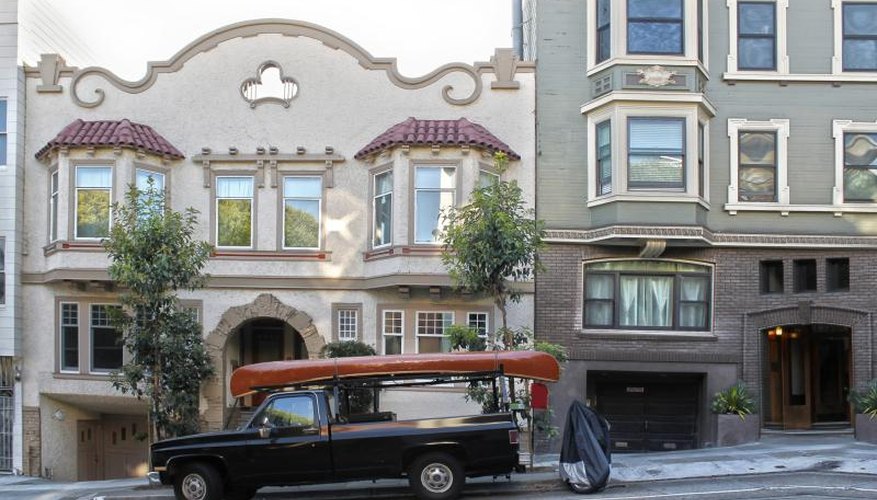 A trailer cradles your canoe in its own vehicle, safely secured with tie-down straps, the canoe equivalent of a safety belt and shoulder harness worthy of the most obsessive NASCAR driver. If you don't have, or don't want, a trailer for your canoe, a canoe rack that's fully enclosed by your truck's bed is the best choice. Canoe racks don't offer the excitement of watching a canoe try to leave your truck's bed through an open tailgate, or try to take flying lessons from a cab-roof rack. They do, however, carry the canoe with boring efficiency.
Types of Racks
Canoe racks come in three forms. The first provides a stable support system for the canoe -- an elevated frame secured inside your truck's bed. The second form is an elevated, single rack that attaches to your truck's rear bumper to support the back of a canoe that's secured to a rack on your truck's cab. The least stable alternative is padded roof-rack bars that clamp or strap onto the roof rack on your car, to bear the whole weight of the canoe.
The Best
A bed-mounted rack is superior to other modes of pickup-mounted transportation because it doesn't depend on a bundle of straps to keep your canoe in place. Most are removable and some assist you in loading the canoe by yourself. This kind of rack supports both ends of the canoe against gravity and the airflow from travel. It also secures the canoe at its ends, so crosswinds don't twist the canoe.
Better than Open-Bed
Throw your canoe in the back of your truck. You have to leave the tailgate down because almost every canoe is more than 8 feet long. You probably have to tie a red rag to the end sticking out of the bed to satisfy state law. You can either open the sliding window on the back of the cab and hold the canoe with your hand, or rig some kind of tie-down to keep the canoe aboard your truck.
Better Than Roof Racks
Roof racks that leave more canoe hanging over their ends than is strapped to them are a poor choice, unless you add a bumper-mounted rack that supports one end of the canoe. Because the crossbars on a roof rack are so close together, crosswinds twist the canoe. Your pickup's forward motion generates a wind-tunnel rush beneath the canoe. Without a rack to support one end, the canoe might still launch itself into flight.
References
Writer Bio
Will Charpentier is a writer who specializes in boating and maritime subjects. A retired ship captain, Charpentier holds a doctorate in applied ocean science and engineering. He is also a certified marine technician and the author of a popular text on writing local history.