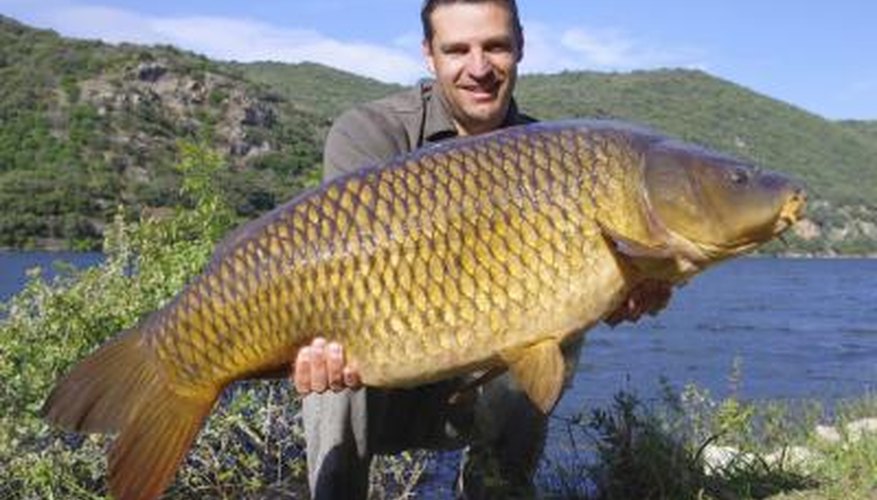 Carp inhabit waters all over North America. They're some of the biggest fish swimming in many lakes and rivers, and carp exceeding 20 pounds are not uncommon. Anglers use a wide variety of baits to catch carp, including earthworms and canned corn, but among the most effective types are homemade dough baits.
Gathering the Ingredients
Countless ingredients are used to make carp dough baits, so the key to success lies in a willingness to experiment. Most dough baits are based on a mixture of water with one or more types of grain. Flour, cornmeal, oatmeal and crushed breakfast cereals all work well. Additional flavorings and sweeteners include sugar, Jell-O mix, honey, vanilla extract, cheese and anise seed. Some mixes also use eggs. A typical recipe includes 1 cup of yellow cornmeal, 1 cup of flour, a teaspoon of sugar, a quart of water and 1 cup of corn syrup.
Preparing the Bait
Once you've chosen your ingredients, combine them in a mixing bowl to form a solid ball of dough. The dough should be soft enough to mold into shape, but solid enough to stay on a hook. Adjust the amount of water until you get the right consistency. Some dough baits hold together better if you boil the water and add the other ingredients on the stove over low heat. Allow the dough to cool, and then break it into smaller balls -- about the size of a nickel -- that you can put on a hook.
References
Writer Bio
When Richard Corrigan isn't writing about the outdoors, he's probably outside experiencing them firsthand. Since starting out as a writer in 2009, he has written for USA Today, the National Parks Foundation and LIVESTRONG.com, among many others, and enjoys combining his love of writing with his passion for hiking, biking, camping and fishing.