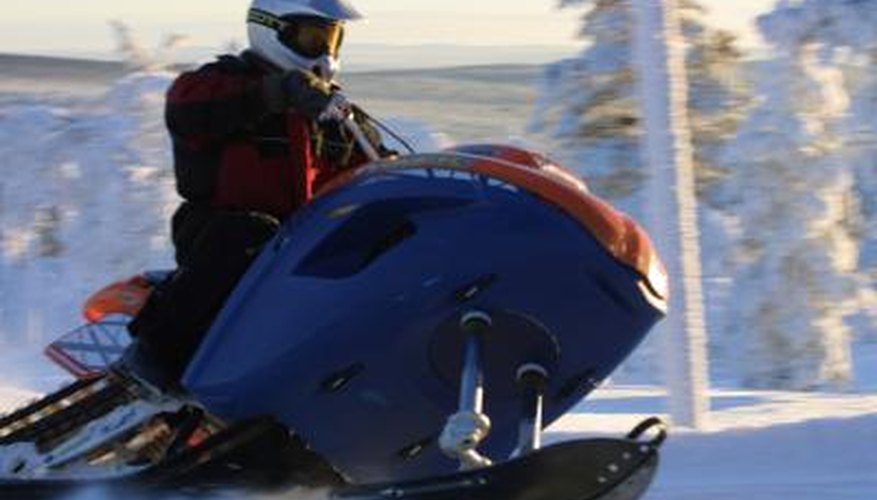 The Polaris XLT 600 is a high-performance snowmobile manufactured by the Minnesota-based company during the 1990s. The XLT featured a liquid-cooled 597cc engine that came with dual stock Mikuni round-slide carburetors. The Polaris carburetors circulate fuel from the gas tank to make the snowmobile run. Over time, Polaris carburetors can become dirty, which can affect the overall performance. The carburetors may need to be removed at some point for cleaning, rebuilding or replacement.
Items you will need
Adjustable wrench

Phillips screwdriver

Plastic container

Pipe wrench
Step 1
Open the Polaris engine cover to access the carburetors, which are located between the air box and the motor. Also turn the fuel valve to the off position. It is located in the middle of the fuel pump and the gas tank.
Step 2
Use an adjustable wrench to remove the bolts on each end of the air box. Set the bolts aside and lift the air box off.
Step 3
Use a Phillips screwdriver to loosen the clamp screws for the vent and fuel lines on both carburetors. Pull all of these lines off, use a small bowl or plastic container to catch spilling fuel as you do this.
Step 4
Remove the caps on both carburetors by hand, or with a pipe wrench if necessary. Pull out the slide and jet needles on each carb by hand. Unscrew the choke cables on both carbs with the adjustable wrench.
Step 5
Use the Phillips screwdriver to loosen the rubber flange's clamp screw on both carbs. Lift each carb out carefully by hand and drain the gasoline inside the float bowls into the bucket.
Carburetor removal should always be performed in an open and well ventilated area.
References
"Polaris Snowmobile Shop Manual 1990-1995 (Clymer Snowmobile Repair Series)"; Ron Wright and Mark Jacobs; 1995
Warnings
Carburetor removal should always be performed in an open and well ventilated area.
Writer Bio
Andrea Walk began writing in 2001, authoring user guides for technical software. She holds a Bachelor of Arts in political science from Loyola University, where she was a member of the Dean's Grade Review Committee for English. Walk is a member of the Automotive X-Prize team Global-E.