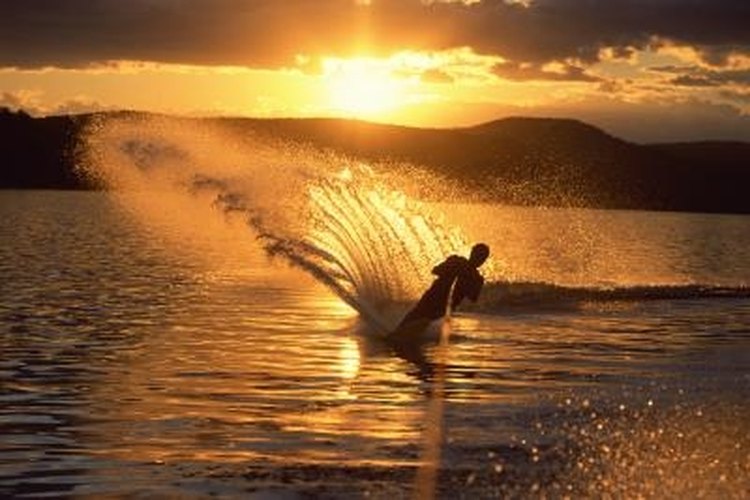 Under the right circumstances, it is possible to water ski behind a pontoon boat. Factors that affect skiing behind these larger party barges include the horsepower of the engine, the weight of the skier, the size and weight of the boat and, in some instances, the number of people on the boat.
Horsepower
Many pontoon boats are designed for slow cruising, which means they are equipped with smaller engines. While some of these may be enough to pull inner tubes and other toys, they do not have enough kick to pull a skier out of the water.
Boat and Engine Size
There are no hard and fast rules about the horsepower needed for skiing. But, manufacturers suggest that pontoon boats of less than 22 feet in length need a minimum 60 horsepower engine to pull skiers. Boats that are 24 feet in length need an estimated 75 hp engine for pulling a skier. Larger, heavier pontoon boats may require as much as an 80 hp engine if skiing is desired.
Skier Weight
The weight of the skier is a factor in whether a pontoon boat is suitable for water skiing. While a small child may be able to ski behind an underpowered boat, a 200-pound man may have trouble getting to the standing position on his skis if a pontoon boat has an engine that is less than 60 hp.
Safety
Since pontoon boats don't maneuver as quickly as more traditional ski boats and runabouts, make sure there is adequate open water and few other boats in the area when skiing. When someone stops skiing or falls, it may take longer for the boat to turn around and retrieve him. Never ski without a spotter on the boat, in addition to the driver.
References
Photo Credits
Comstock Images/Comstock/Getty Images