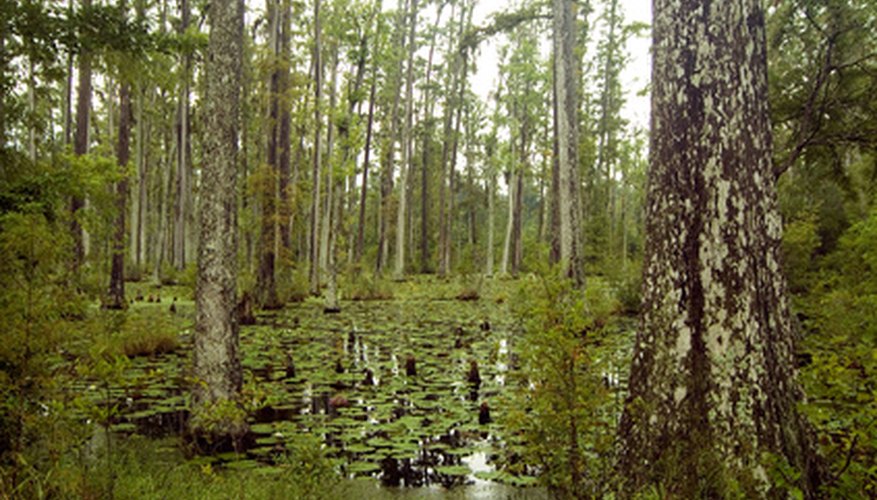 The piney woods of East Texas offer a variety of camping possibilities. Try Tyler State Park if you want an easygoing camping trip. Caddo Lake is more rustic and natural, which is perfect for experienced campers. Angelina Forest offers more primitive campground and facilities. Fishermen flock here for a combination of camping and fishing. A fishing license is required for anyone over the age of 17 who is fishing.
Tyler State Park, Tyler
This is a great starter park for a family's first camping expedition. The compact park has all amenities within a short walk. Activities for all ages include bird watching, hiking, fishing, relaxing, boat rentals, bicycling, swimming, and observing nature. Campsites vary from tent to RV with full hook ups; most are near restrooms with flush toilets and hot-water showers. Screened shelters can be reserved. They are especially nice for families with tots or older campers looking for headroom under a roof and a solid floor. The park has a camp store and children's playground. Nearby Tyler's has the world's largest rose garden, at 14 acres and 38,000 rose bushes. Another diversion is Camp Ford, site of the largest Confederate Army prisoner-of-war camp. Both of these side trips have free admission.
Tyler State Park 789 Park Road 16 Tyler, TX 75706-3630 903-597-533 http://www.tpwd.state.tx.us/spdest/findadest/parks/tyler/
Caddo Lake State Park, Karnack
Caddo Lake, a 27,000-acre cypress swamp, is the focal point of the park. Most of the activities, such as fishing, canoeing, hiking, and nature watching take place on or around the lake with its bayous and cypress trees dripping with Spanish moss. A variety of campsites are available as well as screen shelters and cabins. When night falls, it is pitch black and eerie until the moon rises. Take a walk in the dark and don't use your flashlight. You will probably hear the owls hooting. This remote park is a great place for a quiet getaway weekend. The interpretive center features exhibits of area flora and fauna. Bring your bicycle for easy transportation around the park. Drop by the childhood home of Lady Bird Johnson in Karnack on your way to the park. Her father donated part of the land for the state park, which is situated near the Louisiana state line.
Caddo Lake State Park 245 Park Rd 2 ?Karnack TX 75661 ? 903-679-3351 http://www.tpwd.state.tx.us/spdest/findadest/parks/caddo_lake/
Angelina National Forest, Zavalla (near Lufkin)
Located in the heart of East Texas, Angelina National Forest has four campgrounds, some with cold-water showers. Camping is more primitive than in the state parks and usually more secluded. Angelina is popular with campers, hikers, fisherman, boaters, and water skiers. Sam Rayburn Reservoir lies in the middle of the piney forest. In winter you might observe bald eagles flying overhead. They winter here. The endangered red-cockaded woodpecker lives here. Listen for the sound of woodpeckers as you hike the Sawmill Trail. The 5.5 mile trail passes an abandoned sawmill site and onto a tramway used to haul logs to nearby sawmills until 1920. Angelina is one of four national forests located in Texas.
Angelina National Forest 111 Walnut Ridge Road Zavalla, Texas 75980 936-897-1068 http://www.fs.fed.us/r8/texas/recreation/angelina/angelina_gen_info.shtml
References
Writer Bio
Nancy Kerstetter's first professional writing experience began at the Fort Worth Star-Telegram while pursuing her journalism degree at Texas Christian University in the 1970s. She's worked in public relations and as an editor of a youth camp trade magazine. Currently she writes for small businesses in and around Dallas. Kerstetter travels extensively on business and pleasure in the United States and internationally.