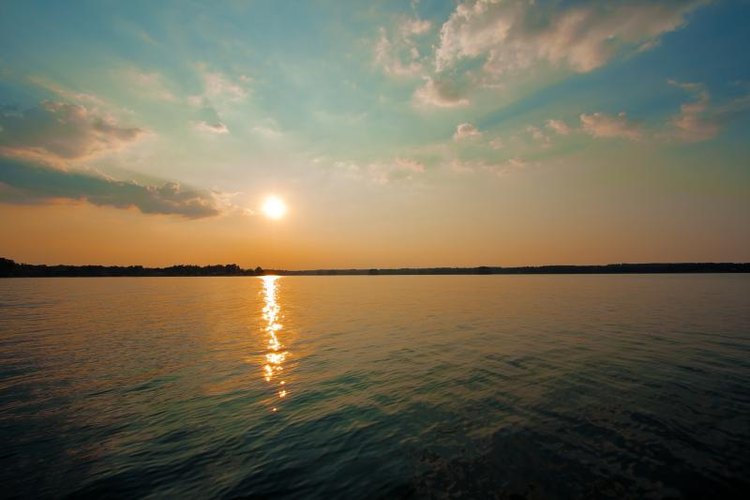 Though it began as a hydroelectric project in the 1930s, Lake Murray has since become one of South Carolina's premier outdoor recreational areas. Almost 650 miles of shoreline encompass a 78-square-mile turquoise lake that lures boaters, fishermen and campers from nearby Columbia and around the region. The area around Lake Murray is mostly wilderness and has few accommodations, but those who want a lakefront experience have additional options nearby, including cabins.
Heart of the Lake Cabins
Travelers who want an intimate experience at Lake Murray should look no farther than Dreher Island State Park. This state park -- in the middle of the lake -- encompasses three separate islands for a total of nearly 350 acres of wilderness. The park's five cabin villas offer views of the water and all the comforts of home, including cooking utensils, climate control, satellite television, microwaves and free Wi-Fi. Each cabin villa comes with either two or three bedrooms and baths. In addition to its luxurious cabins, Dreher Island State Park has boat ramps, picnic shelters and hiking trails, and allows scuba diving and fishing.
Fisherman's Paradise
Buffalo Creek Marina on the northwest shoreline of Lake Murray caters primarily to families and groups of fishermen. The marina's boat slips make it easy for you to hit the water in search of striped and large-mouth bass, and the lakeside family cabins ensure that everyone has plenty of room. Each cabin sleeps between four and six, and comes with a kitchenette, two bathrooms and linens. Generous porches allow for expansive views of the water, and the marina even has an indoor event space for special occasions.
Cabins and Resort Luxury
Spinner's Resort & Marina offers one more option for travelers who want to stay on the Lake Murray waterfront. The resort's cottage-style cabins place you right on the lake. The cabins sit within 11 acres of forested wilderness and come with hardwood floors, a king-size bedroom and a lofted sleeping area that can accommodate up to four additional guests. Each cabin has an open porch with views of the lake, and comes fully furnished with a kitchen, washer, dryer and outdoor grills. Guests can also enjoy the resort's expansive amenities, which include a private white sand beach and two on-site restaurants.
Other Nearby Options
Travelers to the region who want a lakefront cabin can explore two more options at nearby Lake Marion, located about 45 miles east of Lake Murray. Santee State Park sits on the western shore of the lake and has 30 lakefront cabins -- and 10 sit on piers directly over the water. Each cabin can sleep up to six guests and come fully furnished. Lake Marion Resort & Marina, an additional 4 miles east, also has furnished lakefront cabins. This resort provides guests with all the tools to make the most of Lake Marion's 110,000 acres, including boat rentals, a dock and fishing charters.
Photo Credits
Craig Wactor/iStock/Getty Images