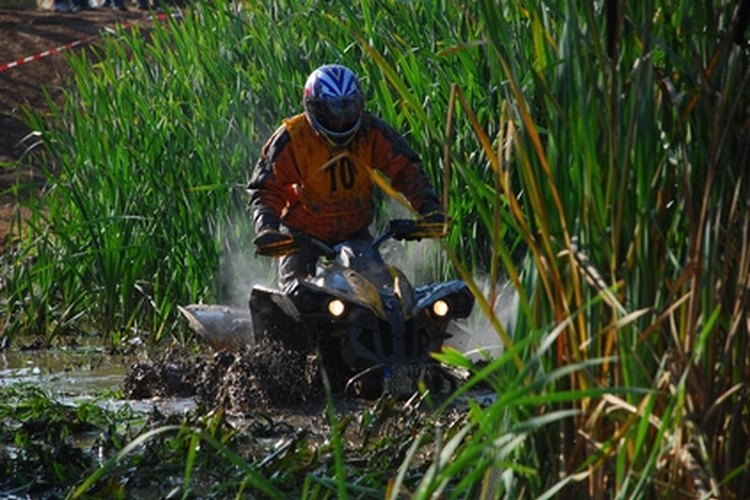 Mississippi, in the southern region of the United States, is named for the Mississippi River, which flows along the western side of the state. Home to a multitude of rivers, lowlands and forests, Mississippi abounds with natural beauty. Other attractions for tourists include Mississippi's casinos and oceanfront resorts. Mississippi offers numerous state parks that provide a variety of ATV trails, campgrounds and cabin rentals.
De Soto National Forest
The De Soto National Forest east of Laurel, Mississippi, comprises 378,538 acres of rolling terrain, pine trees, cedar trees, cypress swamps, streams, and rivers with white sand banks. The forest offers 170 miles of trails for hiking, mountain biking and horseback riding. The Bethel and Rattlesnake Bay trails are reserved for ATV riders. Other activities include tubing, canoeing, bird-watching and wildlife watching.
De Soto National Forest
968 Highway 15 South
Laurel, MS 39443
601-428-0594
stateparks.com/desoto.html
Copiah Creek Camping & Recreation
Copiah Creek Campground on the banks of Copiah Creek offers a variety of activities for the whole family, including miles of ATV trails. Riders must comply with the 5 mph maximum speed limit through the campground areas, must follow the manufacturer's safe operating guides, and everyone rides at their own risk. The campground features RV sites with electricity, water and a dumping station, as well as primitive tent sites. Other attractions include fishing and swimming in Copiah Creek, bird-watching and hiking. The park is open Fridays, Saturdays and Sundays for ATVs. It closes at dark on Sunday.
Copiah Creek Camping & Recreation
1114 Peachtree Rd.
Georgetown, MS 39078
601-209-0727
copiahcreekcampground.com/
Meridian East/Toomsuba KOA
The KOA Campgrounds in Toomsuba offers guests their choice of one- and two-room cabins with electricity, air-conditioning, bunks, fire pits and picnic tables. Amenities include a seasonal swimming pool, a pavilion, a snack bar, a water slide, restrooms and showers, laundry facilities, horseshoe pits and a grocery store. Nearby attractions include the historic Dentzel Carousel, the Jimmie Rodgers Museum and Lake Okatibbee, which offers activities such as swimming, boating and fishing.
Meridian East / Toomsuba KOA
3953 KOA Campground Rd.
Toomsuba, MS 39364
601-632-1684
koa.com
Nachez State Park
Nachez State Park is just outside historic Nachez, Mississippi, home to many elegant mansions that were spared during the Civil War. The park is also famous for the largest bass ever caught in Mississippi, caught in Nachez Lake in 1992. The park features two-bedroom cabins that accommodate up to six guests and include such amenities as fully equipped kitchens, large comfortable beds, air-conditioning and private porches and decks. Other features include a picnic pavilion, restrooms and showers, a ranger station, a fishing lake, hiking trails, a boat launch, disc golf, laundry facilities and a children's playground.
Natchez State Park
230-B Wickcliff Rd.
Natchez, MS 39120
601-442-2658
stateparks.com/natchez.html