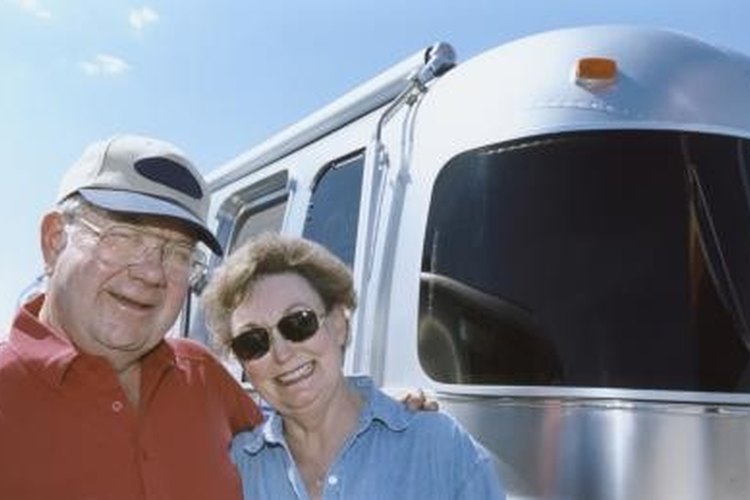 When buying a camper trailer there are several considerations, one of the biggest being if you want to purchase new or used. A used RV will cost much less, as the original owners have already absorbed depreciation costs. While buying a used camper trailer will save you money, it generally won't come with a warranty, unless you purchase it from a dealer who offers warranties on their used models. With a new model you will need to conduct some research to get the best deal, whereas a used one will require a detailed inspection. For either new or used, an important consideration is how much weight your tow vehicle can safely handle.
Buying New
Visit several dealerships and look at as many camper trailers as possible. Get an idea of the different features available and cost. Take charge and ask questions. The sales people are pros and the one who asks the questions is the one who is in control. Take notes.

Obtain a written proposal from each dealer so you can take it home to study. Under no circumstances allow yourself to be pressured into signing anything until you have had a chance to make your comparisons in a pressure-free environment.

Study the proposals and figure out exactly what you can afford, including options. The cost of options add up fast. Don't add want you don't need.

Reduce the asking price. Because there is no way to determine the manufacturer's suggested retail price on an RV, as there is with an automobile, start by offering the dealer 25 percent less than the asking price. Never agree to the asking price.

Stand firm on your target price and do not allow the price to be negotiated by the amount of the monthly payments as this can end up costing you thousands of dollars extra. Get every promise, including all warranties, in writing, or go somewhere else.
Buying Used
Locate used RVs in the newspaper, online and by networking with friends, family and coworkers.

When you go to look at a used RV, carefully inspect all areas of the camper trailer and take notes.

Check inside for water damage by examining the walls and ceiling and floor for stains and soft spots. Use the flashlight in dark areas. Open and close all windows while checking for damage, including the screens. Examine the plumbing system by running water from all faucets, including the bath. Look under the sinks for leaks. Check that the toilet and shower is functioning, if so equipped.

Turn on all appliances. Light the stove, gas lights and furnace. Have the owner hook the trailer up to an electrical source and a tow vehicle and check all the lights for both AC and DC operation. Confirm the refrigerator operates in all modes -- on battery, gas and household current, if so equipped.

Close the door as you go outside, checking to be sure it latches properly. Climb the stepladder and visually inspect the roof and vents for damage. Check the tires and propane tanks, regulator and hoses for wear and abuse. Test the tail lights and marker lamps. Look under the trailer and check for signs or water damage from plumbing leaks. Pay special attention to the areas around the trailer's septic system's holding tank.

Check the asking price against the camper trailer's value in the NADA RV Guide. If you have found anything to not be in working order, use it to negotiate the price down.
Items you will need
Flashlight
Small stepladder
Flathead and Phillips screwdrivers
National Auto Dealers Association (NADA) Consumer Recreational Vehicle Appraisal Guide
Tip
Remember to take your time when buying either a used or new RV. Do not let dealers or private sellers pressure you into a snap decision.
Warnings
Repair costs add up fast. If you do not feel confident in doing the inspection of a used RV yourself, hire a technician after you have found a suitable unit.
Do not climb on the roof when inspecting a used RV as many older models were not constructed to support much weight.
Photo Credits
Sean Justice/Digital Vision/Getty Images