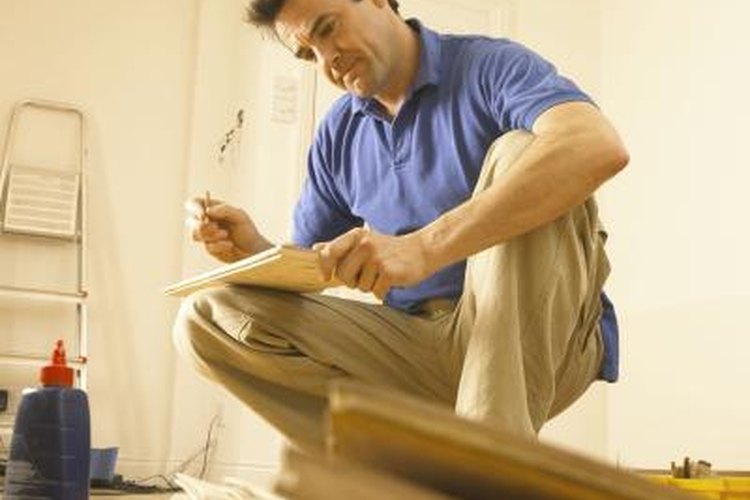 The step that comes with many recreational vehicles is just a little too high or too small for many people. The solution? Build an easy-to-assemble step that also serves as a storage box. The step provides sure footing, as well as a dry, clean landing area outside your RV, helping prevent dirt and mud from being tracked in.
Make a Box
Place the pieces of 2-by-6 in a perfect square, not a rectangle, on a flat surface. It should look like a miniature sandbox. Attach the boards to each other with 3-inch wood screws, two at each corner.

Place one piece of plywood squarely on top of the box. Attach with the 2-inch screws.

Turn the box over and place the other piece of plywood on top of it. With the piece of plywood placed squarely on the box, position the hinges at one edge of the piece of plywood. Space the hinges evenly from each other, about 2 inches from the ends of the piece of plywood. Attach the hinges to the plywood and 2-by-6 with 3/4-inch screws.
Finishing Touches
Position the hasp over the edge of the plywood and 2-by-6, so that the catching mechanism is against the 2-by-6. This is done at the opposite edge of the piece of plywood. Attach with 3/4-inch screws.

Attach the handle on one side of the box in the center of the 2-by-6, using the 1 1/4-inch screws.

Apply a bead of construction adhesive in a serpentine pattern to the plywood top. Place the outdoor carpet on the construction adhesive and apply even pressure to remove air pockets.
Items you will need
24 wood screws, 3/4-inch
8 wood screws, 2-inch
8 wood screws, 3-inch
4 wood screws, 1 1/4-inch
2 hinges
Pull-type metal handle
2 pieces of treated plywood, 3/4-inch thick, 2-by-2 feet
4 pieces of treated 2-by-6 lumber, 22 1/2 inches long
Piece of outdoor carpet, 2-by-2 feet
Galvanized swivel hasp, 4 1/2-inch
Construction adhesive
Tips
The size of this handy RV step can be varied. Just bear in mind that a larger step will be heavier. The height of the step can be varied by using 2-by-8 or even 2-by-10 boards instead of 2-by-6. If you vary the height, keep in mind that the step will need to fit under the existing step of your RV.
A weatherproof doormat can be used instead of a piece of carpet. The step can be painted if desired.
The box is especially useful for storing messy items, such as septic-system gloves and wheel chocks.
References
Photo Credits
BananaStock/BananaStock/Getty Images