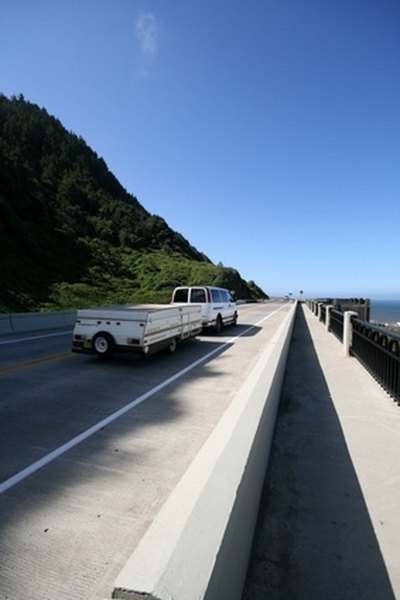 Building a pop-up trailer allows you to completely customize the camper. It also means that you will know the unit inside out, and you will be capable of locating problems and making repairs. The pop-up camper is a simple piece of equipment, but it does take some concentration and construction skill to build the camper. You can build many of the features from scrap parts, or you can order new parts from the many camper manufacturers.
Items you will need
Trailer

Goshen-style lift

Metal framing

Metal siding

Caulking

Wood framing

Laminate flooring

Fiberglass roof

Metal support arms

Canvas cover

Cabinets

Hinges
Step 1
Obtain a trailer to use as the base for the camper. Any trailer will work, but you will want one that fits your desired camper size.
Step 2
Weld a metal frame to the height of the desired folded trailer. Any height can be used, but the lower the wall height, the easier the trailer will be to tow. Weld the frame with a top rail that creates a box and evenly spaced support bars.
Step 3
Install a Goshen-style lift inside of the frame. Attach the lift directly to the trailer with the provided brackets and bolts. The Goshen lift is a simple crank and cable system that is used on many of the popular camper brands. The lifts can be obtained through most major RV dealers.
Step 4
Pre-drill holes in the trailer frame, and install metal siding to the height of the frame. Leave a low section for the door. Apply a layer of waterproof caulking to the corners, and attach a metal cap to seal the interior.
Step 5
Install a pressure-treated plywood floor, and cover with laminate flooring. Build the frames for a bed and cabinets. Keep the trailer in a covered area to prevent damage to the exposed interior.
Step 6
Install a fiberglass roof to the lift. Use collapsible upright poles with locking hinges to support the roof. Wedge and staple waterproof canvas to the roof and to siding. Cut out a door and attach zippers to allow entry and exit.
Step 7
Attach the cabinet faces to the frame inside the trailer. Also, attach the wood face to the bed frame with finishing nails. The wood must fit to the exact size of the bed frame. Once attached, it will create an empty box inside of the bed. Place hinges on the top of the bed to create accessible storage.
References
Writer Bio
Zach Lazzari is a freelance outdoor writer specializing in hunting, fly fishing and the general outdoors. He guided fly fishing trips for 10 years in Colorado, Alaska, Montana and Patagonia-Chile. Zach lives in Montana and splits time between the river and keyboard.