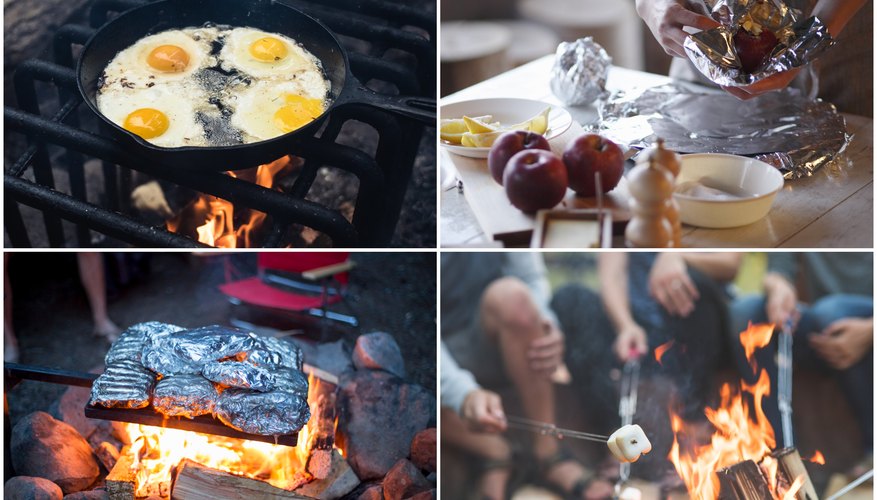 Everybody has a handful of favorite (or downright mandatory) campfire favorites, from the ever-popular s'mores to hot dogs charred at the end of a stick. While those are popular favorites for a reason, there are many ways to up your fireside game through simple and brilliant camp cooking hacks. Here are a few of our biggest favorites.
Take Your Eggs in a Bottle
If you can't do without your eggs in the morning, camping can be a bit of a challenge. They're naturally fragile, so just tossing them in the cooler won't work. You can buy rigid containers to hold a dozen in reasonable safety, but those take up a lot of space. A better solution is to crack your eggs into small jars or bottles, a breakfast's worth at a time. In the morning, just pour a bottle into your preheated skillet and you're done. Want a super-easy camp omelet? Shake up the jar, pour the eggs and flavoring ingredients into a zipper-top bag, and poach it in boiling water until the eggs are set.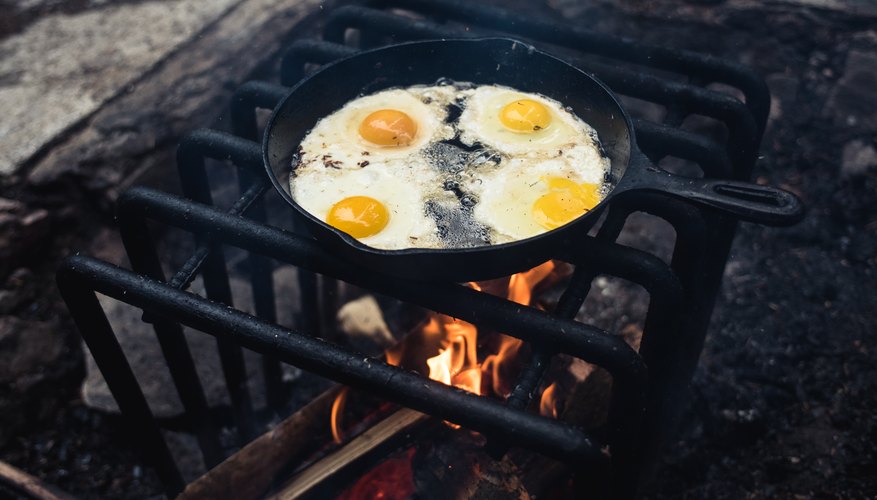 GoneOutdoors
Use Orange Peels to Make Muffins
If oranges are your preferred bring-along for camping, plan ahead and make them do double duty. Serve the oranges themselves by cutting them in half, then scooping the fruit from the half-rinds. The hollowed orange halves are just the right size to serve as muffin cups, and they're sturdy enough to not need a pan. Fill them with your favorite muffin mix at breakfast, or a chocolate or spice-cake mix for after-dinner cupcakes, then wrap them in foil and bake them at the edge of the fire.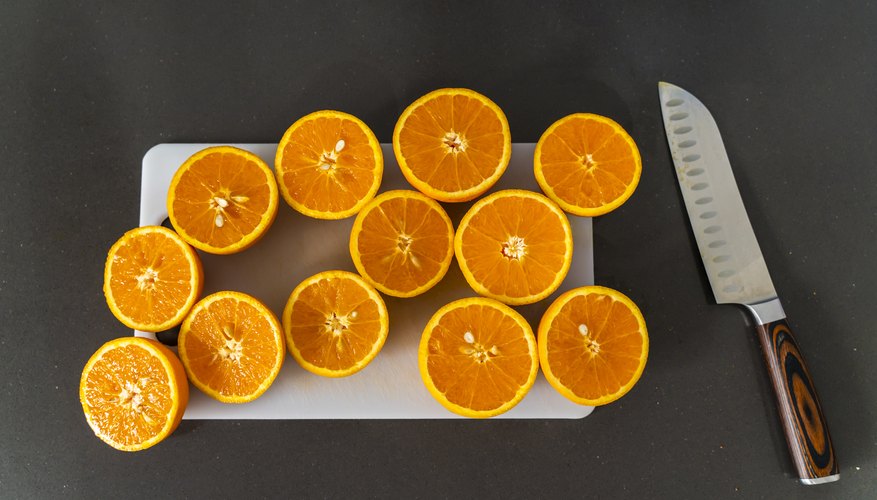 GoneOutdoors
Make Up Coffee Filter Bags
A big old enamel pot sitting over the fire, filled with "cowboy coffee" is one of the iconic visuals we all picture when we think of camping. Sadly the coffee itself is often bitter or even crunchy, from the grounds being left in it. For an easier morning experience, measure a pot's worth of coffee grounds into a paper filter, tie it up with string, and pack that along with you. Drop it into a pot of hot water in the morning, and use the string to lift it out once the coffee is the way you like it. It's easy, and you won't face the ironic need to focus before you've had your coffee.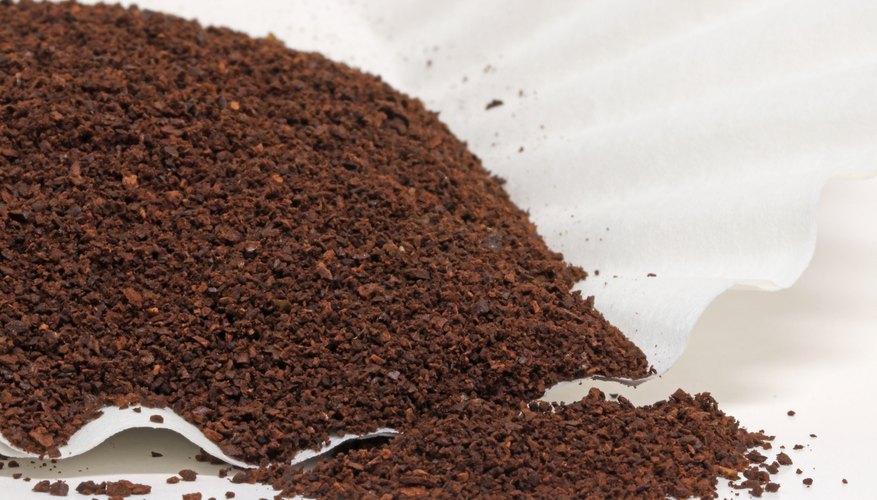 GoneOutdoors
Make Campfire French Toast
If you plan on cooking at all while you're out, you probably brought along bread, eggs and milk. Since you have the ingredients, why not make French toast? The traditional way uses a skillet and makes a couple of slices at a time, but making it in foil packets instead frees you up to enjoy the fresh air instead. One option is to butter several pieces of foil, put two or three slices of bread in each, and pour in the custard. Another is to do the whole loaf in one large foil packet, carefully pouring the custard down between all the slices. Bake them until done at the cool edges of your grate, while you enjoy your coffee.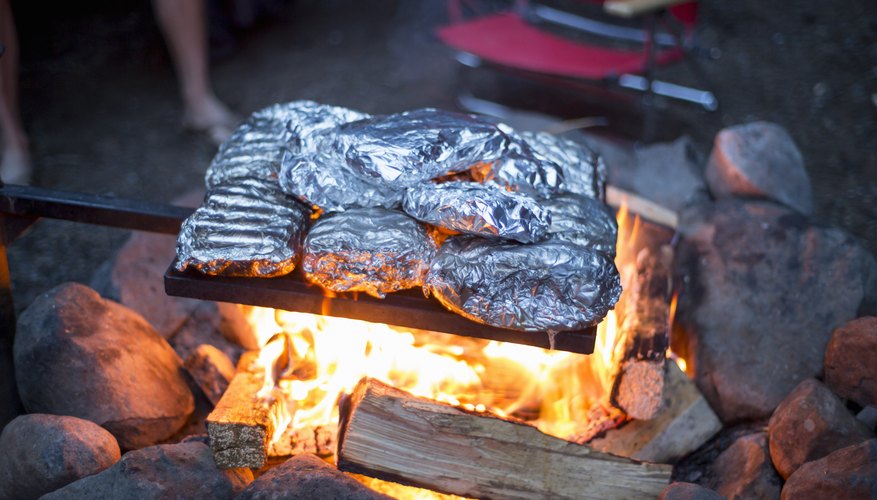 GoneOutdoors
Use Water Bottles as Ice Packs
Your picnic cooler needs ice or gel packs to keep the food cold, but ice melts and gel packs take usable space away from food and drink. Instead, freeze bottles of water (or fruit juice) and use those to keep your food cold. As they thaw you'll have a steady supply of well-chilled beverages, and it's one less thing you'll have to pack along separately. Just remember to bag the empties and bring them out with you when you're packing up to leave.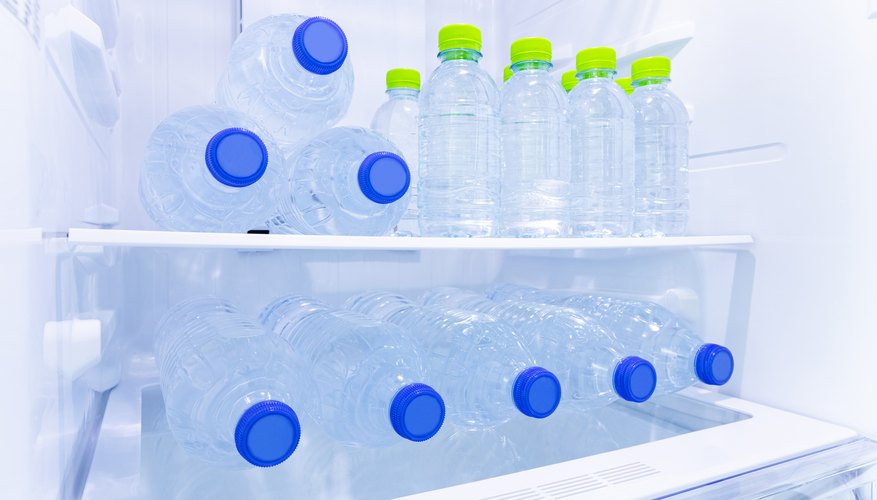 GoneOutdoors
Pack Spices to Bring Along
It's easy to save the salt and pepper from takeout orders and bring them when you camp, but what about your other favorite herbs and spices? A few well-chosen favorites can make your camp food a lot more interesting. Any small container with a snap- or screw-on lid is appropriate, from pill organizers to empty breath-mint containers. If you're really stuck, seal one end of a plastic straw with a match or lighter, then fill it a meal-sized quantity of a spice or herb. Snip it to length and seal the other end, then repeat for anything else you want to bring along.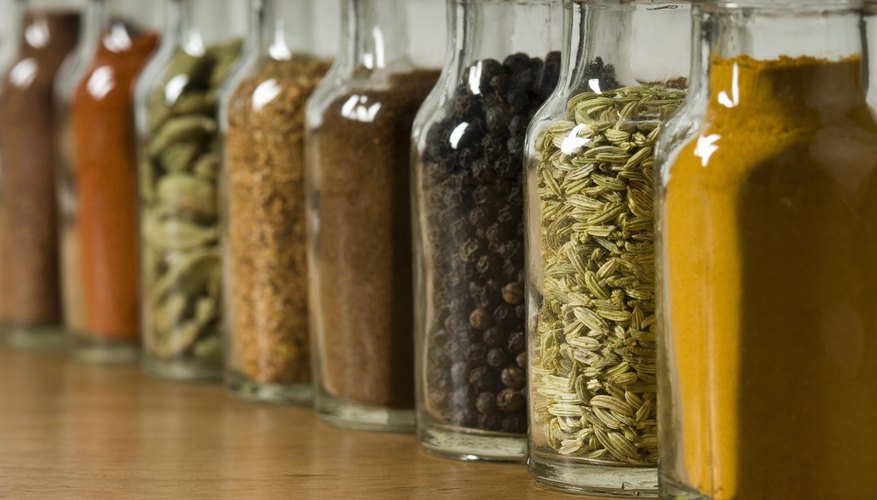 GoneOutdoors
Bake Foil-Wrapped Apples
Apples are a perfect camping fruit, because they're relatively durable and don't create a lot of waste. They're also good for baking, so they double as a healthy snack and as a dessert that's as rich as you want to make it. For an easy campfire dessert, core the apple and fill it with your favorite granola or trail mix. Wrap it in heavy foil, and bake it at the edge of the fire. For a more deluxe version, prepare the apples ahead of time at home and pack them with brown sugar, spices, nuts, caramels or any other treats that appeal to you.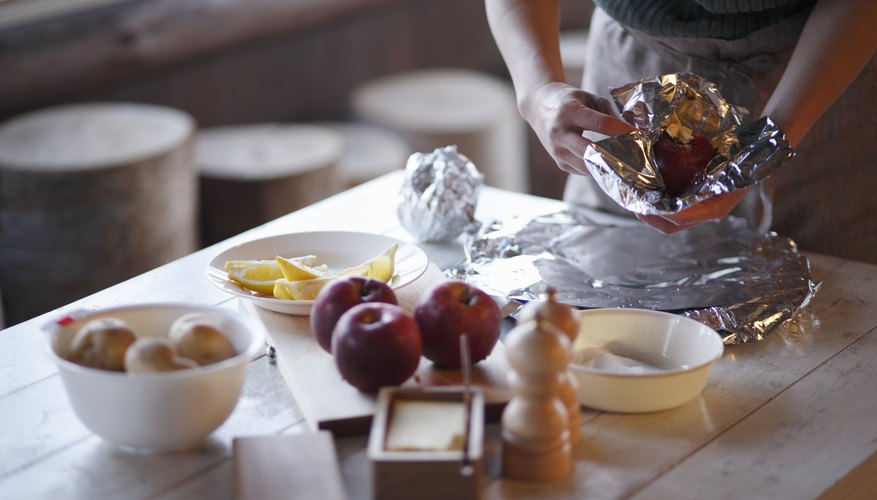 GoneOutdoors
Dutch Oven Pizza
If there were three words that could revolutionize your campfire cooking, they might just be Dutch. Oven. Pizza. Yeah, that's right. Dutch oven pizza. You'll need to preheat your Dutch oven in or over the coals, while you make up the pizza on a large piece of parchment paper (because you won't want to assemble it inside that hot pot). Lower the pizza into the Dutch oven, and place it back on the heat. If you have an old-school Dutch oven load the lid with coals; otherwise just use a regular lid to trap the heat. Lift it out by the parchment when it's done, and load in your next pizza on its own sheet.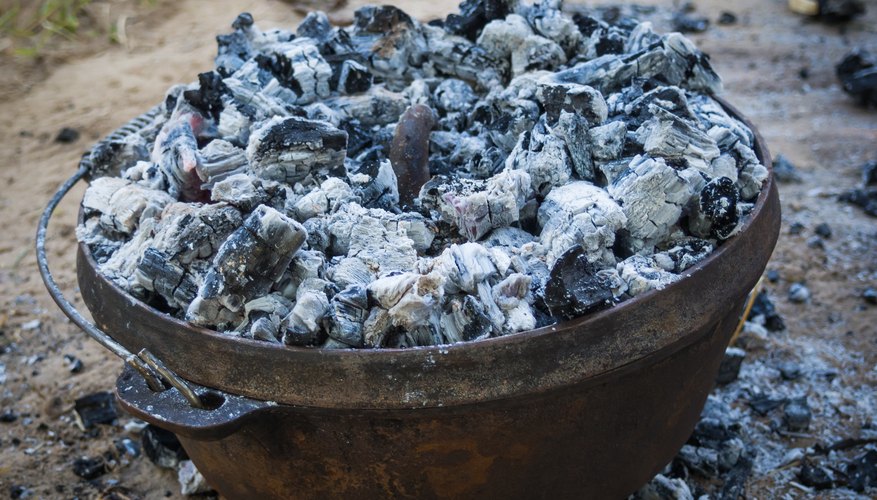 GoneOutdoors
Cinnamon Roll (-Up) On a Stick
Toasting marshmallows over your fire is a quintessential part of the camping experience, but you can use the same basic technology (and it is pretty basic) for "dessert-ier desserts" as well. Consider cinnamon rolls, which are chancy to make and easy to burn over a campfire when done conventionally. Instead, bring along crescent dough in a tube. Sprinkle the dough liberally with brown sugar and cinnamon, and then wrap them around your stick and press them firmly to seal. Toast them over the fire until they're golden brown and baked through, and then enjoy!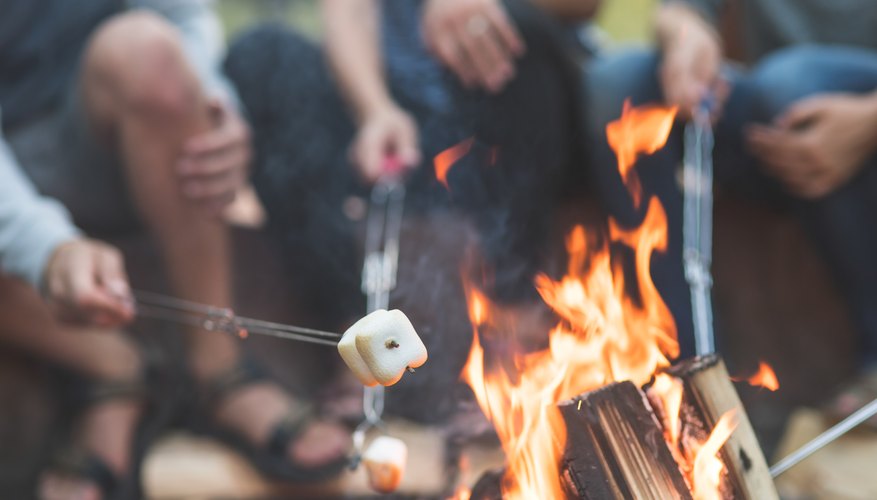 GoneOutdoors
Make Ice Cream Cone Desserts
Conventional desserts aren't often suited to campfire cookery, and let's face it: There are better things to do at the campsite than fuss over dessert anyway. One creative "cheat" is to use ice cream cones as your pastry — waffle cones are tastier, but regular ones are fine — and fill them with whatever you've got. That might be as simple as marshmallows and chocolate for a "hands-off" version of s'mores, but you could also pack them with fruit and spices. Wrap the cones in heavy foil and put them at the edge of the fire to bake, while you enjoy the sunset or a cup of coffee.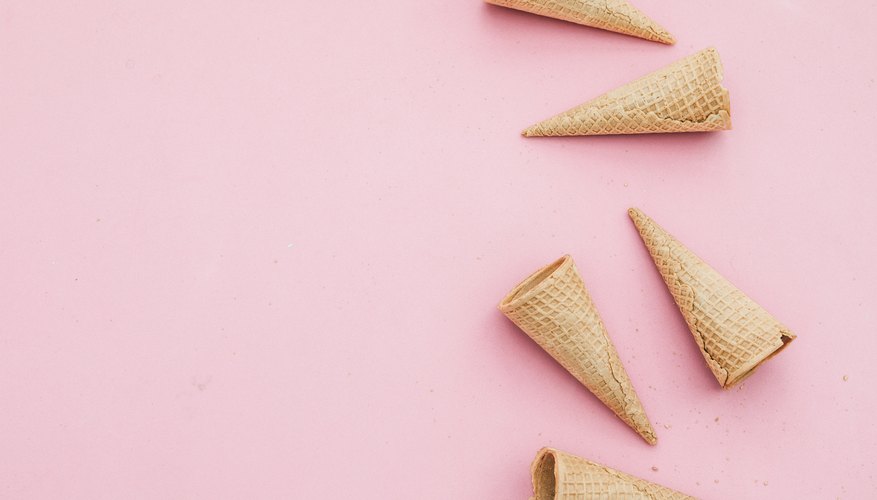 GoneOutdoors
Writer Bio
Fred Decker is a trained chef and prolific freelance writer. He grew up in rural Nova Scotia, and had learned to skin a rabbit with his pocketknife by the age of seven (whenever the pocketknife wasn't lost). He was educated at Memorial University of Newfoundland and the Northern Alberta Institute of Technology, and seldom loses a pocketknife anymore. You'll find his articles on game, foraged foods and other outdoor topics at major sites including eHow, Leaf.TV, Livestrong, OurEverydayLife and many others.