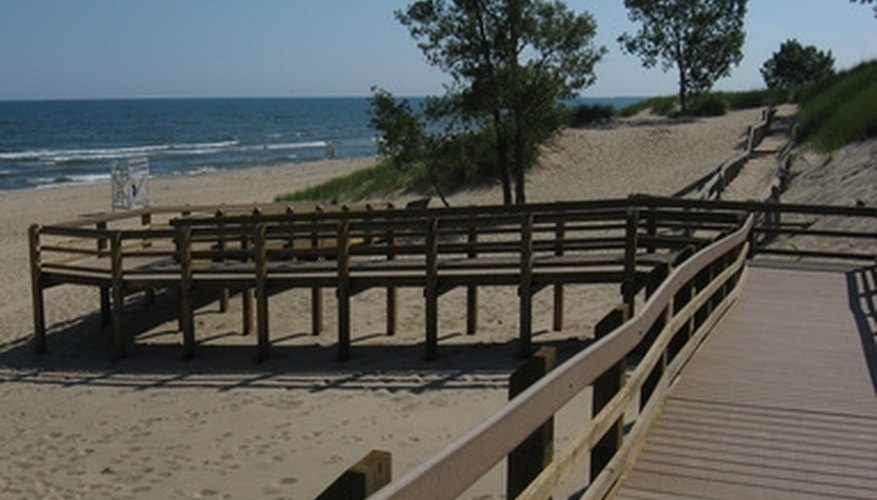 Indiana is home to 1,239 lakes, ponds and reservoirs, with the highest number of lakes occurring in Whitley, Vigo, Porter, Morgan, Brown, Dubois, LaPorte, Kosciusko and LaGrange Counties. Noble County has the highest number, with 116 lakes within its boundaries. According to the Indiana Division of Fish and Wildlife's 2010 Fishing Regulations, there are no size or daily limit restrictions for bluegill caught in the state.
Adams Lake
May and June are the best times to fish for bluegill on Adams Lake, which has plenty of bluegill on the weed line north of the boat access and on the submerged peninsula of the lake. The website IndianaGameandFish recommends using earthworms, mousies, mealworms and crickets to catch bluegill throughout the spring and summer. Adams Lake, which covers 303 acres, is located in LaGrange County.
Middle Fork Reservoir
Middle Fork Reservoir's bluegill, according to an Illinois Division of Fish and Wildlife survey, measured 6.5 inches on average when caught in June. The website IndianaGameandFish recommends fishing for bluegill on the emerging shallow-water vegetation, which provides plenty of post-spawn bluegill in the spring and summer. Located in Bruce County, the Middle Fork Reservoir spans 177 acres.
Bruce Lake
Located on the Fulton and Pulaski County Line, Bruce Lake covers 245 acres and is a shallow, 7-foot lake that provides plenty of bluegill bank fishing. Small jigs and live bait are recommended when catching bluegill. The bait should be dropped close to the bottom and left on a bobber or dragged across the bluegill bed.
Patoka Lake
When fishing in southern Indiana's Patoka Lake, bluegill fishing is best from mid-April through early July. The website IndianaGameandFish recommends fishing near moon craters in shallow areas, which are key spawning locations.
Dogwood Lake
Dogwood Lake, which is located near the city of Washington's Glendale Fish and Wildlife Area, is home to bluegills weighing up to a pound a piece. Fishing a few yards away from the shallow moon craters, in the lake's deeper waters, is recommended. A popular fishing location in the summer, Dogwood Lake's best fishing can be found during the week, when the crowds have thinned out.
Oakland City Lake
Oakland City Lake, located in Oakland City, is chock-full of bluegill, which prefer garden worms on 6-pound test lines. The website IndianaGameandFish recommends adding a split shot 18 inches above the bait when fishing for bluegill in Oakland City Lake.
Hovey Lake
For anglers wanting to try bluegill dipping, which is a method of lowering red worms or bee moth grub into a submerged cypress trunk, Hovey Lake in Evansville is a good bet. The website IndianaGameandFish recommends using split shot that is 10 inches higher than the bait, which helps the fishing line from getting caught on the bark of the cypress.
References
Writer Bio
Leah Waldron is the head of Traveler Services at First Abroad, a gap year travel company based in Boston and London. As a travel, research and LGBT news writer, Waldron has publication credit on magazines and newspapers including "Curve Magazine," "USA Today," "The Sun Sentinel" and the "The Houston Chronicle." Waldron has a bachelor's and master's degree in creative writing from Florida State University.