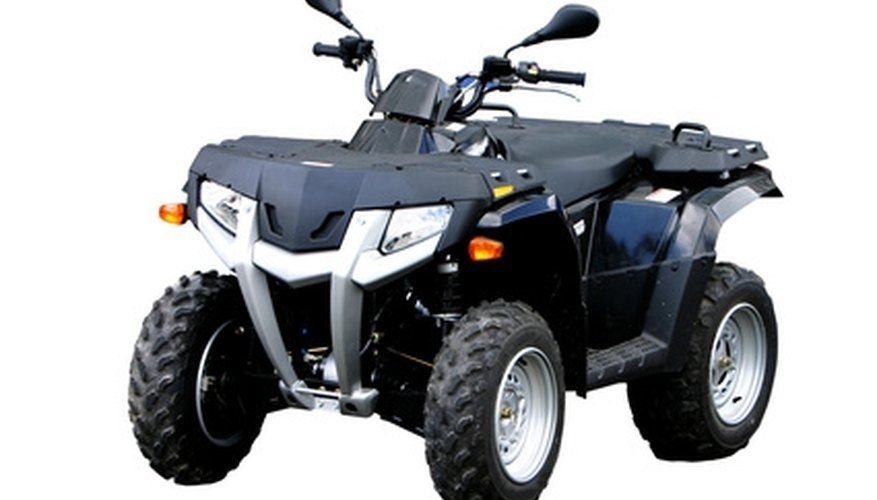 A Big Bear 350 is an all-terrain vehicle first introduced in 1987 by Yamaha. With the earlier versions as well as the later versions, 1997 and above, there are a handful of problems that riders can and may experience. In most cases, these issues can be fixed by making a few adjustments or performing routine maintenance.
Torque Issues
Even later models of the Big Bear 350 have been known to have torque and throttle problems. This means that when the rider cranks the engine and begins to ride, it will eventually lose its torque, perhaps even after 5 to 10 minutes. If this happens, the ATV will eventually act as if it is flooding out. These problems could be due to a cracked or sticky float, or the spark plug might need to be replaced. As with any vehicle, it is best to have a certified dealer or mechanic take a look and potentially fix the problem.
Throttle Issues
On older models, the Big Bear 350 has been known to eventually experience throttle issues, causing the ATV to run terribly. When this happens, the driver might think that the vehicle isn't receiving enough gas, but in actuality, it could mean that the Big Bear needs to warm up for a moment before racing off. Occasionally, cleaning the air filter and dissembling the carburetor could fix this problem, but a assembling a new carburetor kit could be the answer. A Yamaha specialist should be contacted to discuss any throttle problems.
Transmission
Some riders who own a Big Bear 350 have experienced transmission problems. With a blown transmission, it will either need to be replaced or inspected by a certified Yamaha specialist. Big Bears aren't generally made to go past 40 MPH, so if a rider forces the ATV to go any faster ,the transmission could experience problems or become damaged. To prevent transmission failure, do not overwork the vehicle and force it to run at a higher speed.
Carburetor Issues
If a Big Bear 350 is idling up extremely high and then cutting off, the ATV will most likely be experiencing carburetor issues. If you're experiencing any carburetor issues, the first step to try to resolve these problems is by removing the carburetor and soaking it for 24 to 48 hours in a carburetor cleaner. Once the carburetor has soaked, allow it to dry. If cleaning the carburetor doesn't work, a certified Yamaha professional could easily assess the problem and how to fix the carburetor issue.
References
Writer Bio
Teresa Starr has been a professional writer since 1998, with novels to her name and credits as a screenwriter. Her novels include "The Questions Within" and "A Forgotten Tomorrow" which are both distributed internationally by Ransom Publishing, U.K. Starr studied English and creative writing at Frederick Community College.