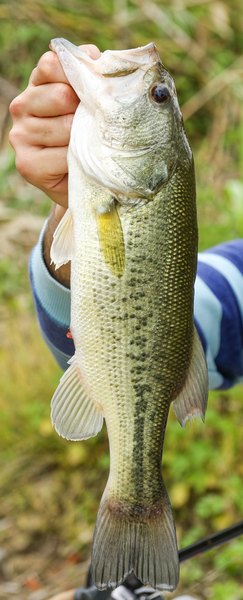 Bass are found in freshwater lakes, streams and rivers across North America and are known for their aggressive attack on the hook, thrilling fight and leaps from the water. The combination of habitat and fun fishing experience make bass one of the most pursued species of fish. You can catch bass using a variety of techniques during any part of the day, but a productive time is early morning.
Shallow During Summer
The summer months from late June to early September are traditionally a challenging time period for bass fishing. Bass generally avoid water that exceeds 80 degrees Fahrenheit, making them difficult to locate. But during the early morning, bass move into shallow water near the shore to feed. David Moeller, fisheries supervisor for the Iowa Department of Natural Resources, suggests fishing in the shallow waters near structure during the early morning as the bass are feeding.
Topwater Baits
During the first hour of sunrise, low-light conditions make the bass look for baitfish on the topwater. The baitfish are actively moving on the topwater during the early morning and the bass use the low light to ambush the baitfish. Take advantage of this feeding cycle by using topwater baits that cover a large portion of water. Ellis Kirby from The Ultimate Bass Fishing Resource Guide website suggests using topwater baits such as spinnerbaits and lipless crankbaits.
Look For Cover
Bass are naturally attracted to underwater structure such as sunken trees, brush or other structures because the structure typically contains baitfish. You can gain an advantage by using the structure during the early morning. Use a plastic worm and slowly jig the bait around the structure to entice a nearby bass. Focus on changing the depth of the bait until you find the proper depth where the bass are suspended. You can also switch to a crankbait if the plastic worm isn't producing any bites.
Behold the Sun
Fishing for bass in the dark of the morning will yield you a great haul. But stick around until the sun rises. The bass can be seen jumping out of the water according to Skipper Mark, writing for the World Fishing Network. As with fishing in the dark, position yourself near a clump of submerged trees as the bass will congregate in the cooler waters that this shade provides; and they'll be looking for a good morning feed.
References
Writer Bio
Based in Nebraska, Jeremy Hoefs began writing fitness, nutrition, outdoor and hunting articles in 2006. His articles have been published in "Star City Sports," "Hunting Fitness Magazine" and RutWear field journals, as well as on the Western Whitetail website. Hoefs graduated with a Bachelor of Science in exercise science from Nebraska Wesleyan University.